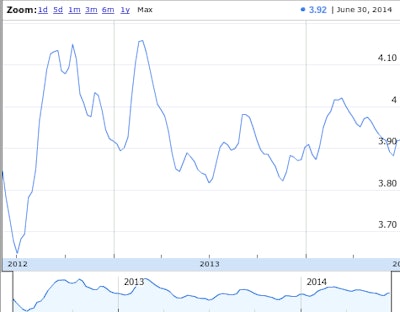 The national average price for a gallon of on-highway diesel rose for the second straight week in the week ended June 30, climbing just one-tenth of a cent to $3.920, according to the Department of Energy's Energy Information Administration.
The increase in the week ended June 23 snapped a string of seven weeks in which the national average price had dropped, when in the final week of the decline it hit its lowest point of the year.
Compared to the same week last year, however, the price is up 10.3 cents.
Regionally, prices mostly rose, too, though most just fractions of a cent. The West Coast less California had the highest jump, 2.1 cents, followed by the West Coast including California, 2 cents. California had a 1.9-cent gain.
The Lower Atlantic, Midwest and East Coast regions were the only three to see decreases, with the Lower Atlantic and Midwest leading the way with six-tenth of a cent drops. The East Coast saw a two-tenths of a cent decline.
California has the country's most expensive diesel, $4.138, followed by the New England region's $4.107 and the Central Atlantic and West Coast, each at $4.073.
The Gulf Coast has the nation's cheapest diesel, $3.816, followed by the Midwest's $3.869 and the Lower Atlantic's $3.887.