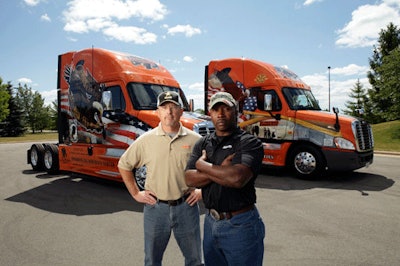 Former military members who operated commercial-type vehicles in the service can now obtain their commercial driver's license in any state without having to take a skills test within the first year of their separation from the military, the Federal Motor Carrier Safety Administration announced this week.
FMCSA had previously granted a 90-day skills test exemption in 2011, but Virginia said that timeframe was too short and asked the agency to extend it to a year earlier this year.
The agency did follow Virginia's request, and the agency's extension of the waiver is in line with a report it submitted to Congress in November that said outlined steps the agency planned to take to help U.S. veterans and former military personnel transition easily into trucking.
The plan included extending the Military Skills Test Waiver to a year, along with allowing service members in heavy vehicle operation to immediately qualify for a CDL after leaving the service and allowing military members stationed in one state but licensed in another to obtain a CDL before being discharged.
The agency also announced last July it had allotted $1 million for six driving schools across the country to train former military members to become drivers.