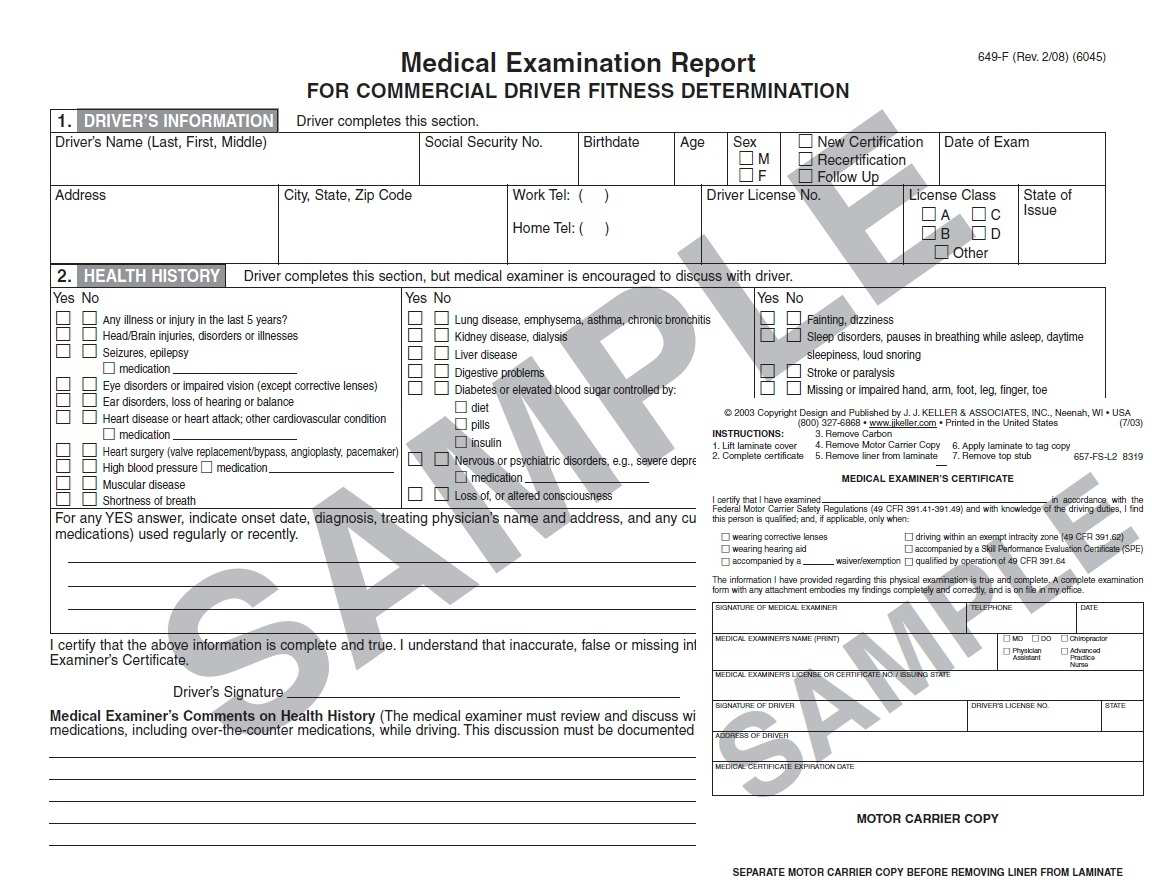 We all know the med cert is tough for some and getting tougher for everyone. I'd like to pass this cautionary tale on to you, just as an example of how far ahead of time you should start your re-certification, especially if you have any extenuating circumstances whatsoever.
Josh W. joined the Marines in 2007, and when he wasn't training to deploy, he was driving trucks. An ankle injury sustained during deployment training caused an untimely departure for Josh from the Marines in 2010. Multiple surgeries and an unstable ankle rendered him physically unfit to deploy, and he got out on a medical.
During out-processing, his routine psych assessment doc stated she thought he might have anxiety issues. He agreed, she wrote orders for therapy sessions and he went as ordered. His anxiety diagnosis was successfully treated without use of medication — he saw a therapist, learned his triggers, and got his sign off after a few sessions.
Josh re-integrated into the workforce as a warehouse worker. His home state is Missouri, and they did not have the troops-to-truckers provision in place at the time, so he wasn't able to get his CDL by just taking the written test, which is a possibility today in most states if you have recent prior military commercial vehicle experience. He was unhappy with warehouse work, and it aggravated his bad ankle. The VA not only suggested he get his CDL, they paid for him to go to community college to get it.
In 2013, Josh disclosed his anxiety diagnosis to his medical examiner, who when advised that it required no medication had no problem signing off on it. He got his first medical card and his CDL that year, and began his civilian professional trucking career.
2014 renewal went the same — full disclosure to an outside medical examiner, no medications, no problem. 2015 renewal time gets close, and because he knows procedures have changed, he starts the process early, but unfortunately, not early enough.
He was told by an approved clinic staff physician that she could no longer sign off on any mental health diagnosis. She wasn't clear on whether or not his attending physician (the VA) could do it, but she knew she couldn't, so she denied his medical card until the mental health provision, which she couldn't be specific about, was met.
Josh went to the VA, and was told he couldn't be seen by mental health for as long as six weeks for the first visit and could possibly need two or three visits before the docs would sign off. They estimated February or March 2016 as a target date for completion of the process. Obviously, in this amount of time, he would have lost his job, his truck and everything he had invested in his small business.
Once a Marine, always a Marine, Josh was pro-active and alerted his company, which he leased to as an owner operator. Instead of going into debt, he elected to turn his truck in and quit his job before waiting around until he was way in over his head. The company not only took his truck back, they rescinded the last week of payments and gave him his full service account, which is nice and all, but he lost everything he'd paid into it.
Josh told me he had a little money saved and had already bought his family Christmas, so he was going to make one last ditch effort to go sit at the VA every day for a week until he got someone to see him as a walk in, before he hit the streets looking for another job. He spent five hours waiting, which really isn't very long by VA standards, and finally got an attending physician at the VA to see him and sign off on his anxiety diagnosis. He was issued another medical card and is happy to be able to start looking for another trucking job right away.
Here's what you should take from this story, and what OOIDA recommends: Have documentation from attending physicians on any diagnosis that may raise a red flag during a DOT physical, and have it ahead of time. This includes sleep disorders, mental health issues and any other diagnosis that requires medication on a regular basis.
Here's what I take from this story: The medical rule language and selection of outside medical professionals to issue certification is conducive to an atmosphere of deception in that people will not disclose issues that don't require medication, or medication that won't show up on a standard drug test.
The approved walk-in facilities have no access to previous medical records without specific consent. It's entirely up to the individual to disclose, and when individuals get a load of the circus they have to go through after they disclose, they will no longer willingly disclose.
So there it is. The best advice is to make sure you have your ducks in a row and plenty of time to march them around for the paper pushers.