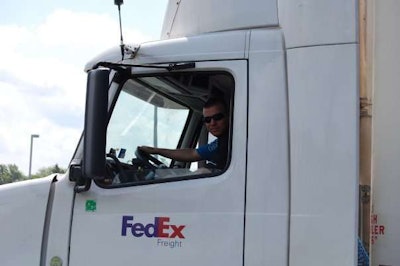 I spoke yesterday with Alexandria, Va.-based military logistics coordinator Rob Ahlers, pictured above "back when" — a younger Ahlers drove for FedEx Freight out of Ohio year ago, mostly local work, while in college working on a supply chain management degree — from around 2003, he says. In 2006, he "jumped over to FedEx Custom Critical," one reason being the fleet's "only office in the world was five miles from my house," he says. Over three years there he "got to know everyone there pretty well."
When he left in 2009 to take his federal job as a civilian managing logistics with the army, he "kept in touch with all the FedEx people." They approached him several times, he says, about potentially managing a non-government small fleet "because I had access to military drivers. They come with security clearances" as a general rule, he says, and given the CDL skills-test waiver program in place for such haulers would be fairly simple to get onboard hauling freight for those that wanted such a career when they made the transition from active service.
Finally, earlier this year at Expedite Expo in Wilmington, Ohio, Ahlers and his two principle business partners began putting a plan in place to launch MSR Transport Services, which you can read more about in this story.
He says the skills-test-waiver program is a "huge benefit" to driving vets. "Our drivers are driving essentially civilian vehicles now," he notes, most trucks with automated manual transmissions readily available in the market. "As long as they've driven for a year or a year and a half and have operated a Class 8 size vehicle," he adds, "we go through and look at their driving record and are able to waive the road test and school portions, but they have to take the written test on the computer and any endorsement written test that may be associated."
Ahlers and company have financed five tractors, Ahlers says, to get the program started.
All three of the company owners are military veterans — in addition to Ahlers, one's a CDL driver who runs in the Akron, Ohio, area and remains in the National Guard and the other is an owner of an environmental water company in Toledo, Ohio. "Our goal, since none of us are going to quit our jobs," Ahlers says, is to "put all of our money back into the company." They're leasing two of the initial five tractors, all 2015 Freightliner Cascadia Evolution models purchased through Fyda Freightliner with stock sleepers, to FedEx Custom Critical, two to Panther Expedited Services, and another as yet unspecified.
MSR will not be going out and getting authority to haul Pentagon freight — thus avoiding potential conflicts of interest given Ahlers' continued work with the Department of Defense.
All that remains before launch is clearing drivers' background checks with the Transportation Security Administration. "We're hoping [to starting running freight] within the next two-three weeks," Ahlers says. "We have two drivers that should be getting their TSA letters back" any day now. He's worked with "about 21-22 drivers in the pipeline" all told so far, so expect somewhat quick fleet growth if business goes well.
To former/current military drivers out there, he notes that "if they've never driven a tractor-trailer but did drive straight trucks, we can restrict them to a Class B CDL. Mass Fleet Services, our fleet management company, has straight trucks within other fleets they manage that we can send drivers over to. If they want to switch to a tractor, there's a way to do that through a driver-training program they've got set up" as well.
Ultimately, Ahlers hopes MSR grows into a solid "opportunity to provide our guard soldiers and veterans jobs, and the trucking industry an opportunity to get hold of drivers they might not ordinarily have."
You can find more on the company — and communicate with Ahlers and his partners — via the fleet's Facebook page here.