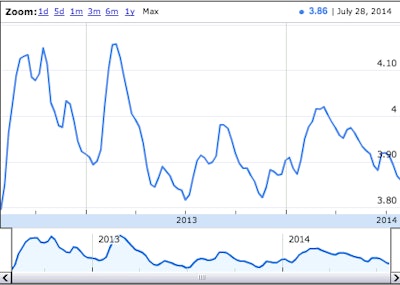 The national average price for a gallon of on-highway diesel continued its downward streak in the week ended Aug. 4, falling five-tenths of a cent to $3.853, according to the Department of Energy's Energy Information Administration.
The price of diesel has fallen every week since the week ended June 30 and has in the last several weeks been at its lowest point of the year and the lowest since November of last year.
The national average price is also 5.6 cents lower than the comparable week in 2013.
The EIA predicted in April that diesel would average $3.87 a gallon this summer, a prediction seemingly coming to fruition, as the price has trended downward mostly since.
ProMiles' Fuel Surcharge Index reported a three-tenths of a cent drop, bringing its average to $3.787 a gallon — 6.8 cents lower than the same week last year.
Per the EIA, prices dropped in all regions nationally, except for two: The West Coast less California region (which saw a two-tenths of a cent drop) and the Lower Atlantic, which saw no change from the prior week.
The New England region led the decreases with a 2.5-cent drop, followed by the Gulf Coast's 1.3-cent drop and the Rocky Mountain region's 1.1-cent drop.
California again had the country's most expensive diesel, $4.087, followed by New England's $4.019 and the West Coast's (including California) $4.016. All other regions were below $4.
The Gulf Coast had the nation's cheapest diesel, $3.754, followed by the Midwest's $3.798 and the Lower Atlantic's $3.817.