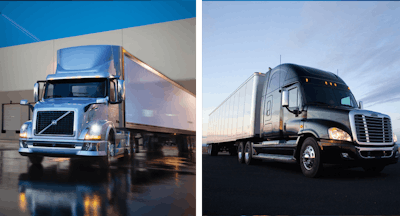 Volvo and Freightliner each issued recalls in late June, which were made public on the National Highway Traffic Safety Administration's recall website this week.
Volvo is recalling 2011-2015 VNL and 2014-2015 VNM trucks built between Nov. 17, 2010, and Feb. 5, 2014, that are equipped with enhanced cruise control but no side fairings. The recall could affect up to 862 trucks, Volvo says.
Volvo says the active braking component — the "autonomous" braking feature — in the affected vehicles can become disabled. The active braking feature is part of the enhanced cruise control system.
If the braking component is disabled, the truck will not engage the brakes automatically, as it should, when the cruise control system is activated, Volvo says.
Dealers can update the system free of charge, Volvo says. A notification schedule has not been set, but owners may contact Volvo customer service at 1-800-528-6586. Volvo will be notifying owners of potentially affected trucks.
**
Freightliner is recalling 2015 Cascadia, 122SD and Business Class M2 models manufactured between March 20, 2014, and April 10, 2014.
Freightliner says a potential manufacturing error could cause weak spots in the beams of affected axle assemblies. The weak spots could cause the beams to bend or cause the wheels to separate. The recall could affect up to 194 trucks, Freightliner says.
Daimler Trucks North America says it expects the recall to begin Aug. 24, 2014. It will notify owners and replace affected axle beams free of charge.