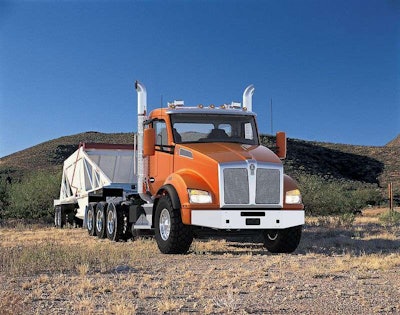 Kenworth announced this week it is adding a natural gas option for the Kenworth T880, the company's flagship vocational truck.
The Kenworth T880 day cab and 52-inch mid-roof sleeper configurations now can be specified with the factory-installed Cummins Westport ISX12 G 400-hp natural gas engine with 1,450 lb-ft of torque. The ISX12 G is available with manual, automatic and Eaton UltraShift Plus transmission options.
Kenworth says the nat gas option is "ideal" for T880 dump trucks, mixers, refuse, pickup and delivery vehicles and other applications operating with up to a maximum of 80,000-lb. gross combined vehicle weight.
The Cummins Westport ISX12 G can run on either CNG (compressed natural gas) or LNG (liquefied natural gas) fuel systems.