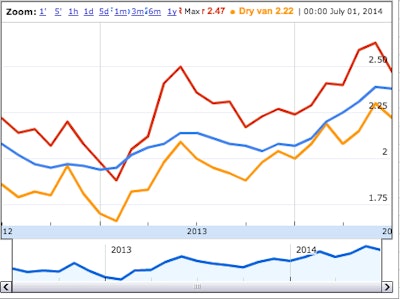 Per-mile rates on the spot market fell in August for the second straight month, as rates come down from the 5-month boom seen between February and June. Internet Truckstop released its monthly rate data Sept. 2.
June saw all-time highs for rates in all three segments — flatbed, reefer and dry van — before easing up in July. In August, all three remained well above rates seen in the same month in 2013.
Flatbed saw the smallest drop, 3 cents, putting it at $2.35 a mile in the month. It was 24 cents higher than August of last year.
Reefer rates fell 7 cents to $2.40, a dime higher than August 2013.
Dry van rates fell 10 cents to $2.12 — 17 cents higher than the same month last year.