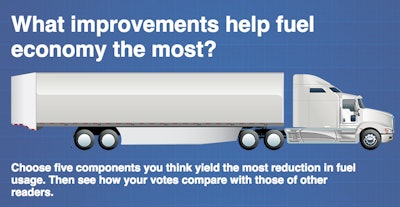 Overdrive's interactive microsite that allows you to choose the fuel-saving equipment you deem most valuable on an over-the-road truck will end its voting round Sunday, Oct. 12. The site highlights each equipment option on a truck diagram when that option is clicked. Click here to see and to select the equipment you think helps most boost fuel economy.
The 21 equipment options include transmission/drivetrain, tires, wheels, tractor, trailer and lubricants. Once you rank your top five picks, you'll be able to see how your choices compare to those of other readers.
Voters are being entered in a contest to win two cases of 5W40 oil and one case of Diesel Injector Clean from Amsoil.
After voting ends Oct. 12, we'll explore the five most popular choices in Overdrive.
Click here to see the site.