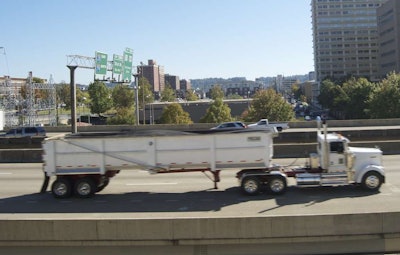 Between now and the end of next summer, the Federal Motor Carrier Safety Administration projects it will publish at least five proposed or final rules to either change existing or add new regulations to the industry, according to a monthly Department of Transportation report.
The agency's Advanced Notice of Proposed Rulemaking to increase the amount of liability insurance carriers must have is still projected to be published this month. The rule made its way to the White House's Office of Management and Budget Sept. 29, and it is expected to clear the OMB any day. The DOT report projects its clearance for Oct. 12, but the rule hasn't cleared yet. The DOT lists a projected publication date of Oct. 22.
Proposed rules to implement the agency's Safety Fitness Determination carrier scoring plan is also expected to be published in the first quarter of 2015, along with a rule to mandate the use of speed limiters on Class 8 trucks.
The DOT projects the speed limiter rule to be published in January and the Safety Fitness rule to be published in March. The speed limiter rule should be sent to the OMB this month, the report says. The projected date was Oct. 9. The Safety Fitness Determination rule is projected to hit the OMB in December and to be cleared there in early March, two weeks prior to the March 11 projected publication date.
However, as reported this week, FMCSA's Chief Safety Officer Jack Van Steenburg says the agency is shooting for a publication date of sometime within the 2015 fiscal year (by Oct. 1, 2015).
The agency also has on the docket for upcoming months publication of a Final Rule to implement a CDL Drug and Alcohol Clearinghouse, which would be a database of drivers who have failed or refused to take a drug or alcohol test. Carriers would be required to both query the database when making hires and upload drug testing information.
The Final Rule is expected to be sent to the OMB in June and cleared and published in September, according to the report.
Also, Final Rules to mandate electronic logging devices and prohibit coercion of drivers are also expected within the next year, though no projected dates for those are listed in the department's report.
The proposed ELD mandate rule was published in late March, and the anti-coercion rule was published in May.
Other rulemakings in the report include FMCSA's work on a new entrant training and testing process, which does not have any projected action dates listed; a rule to make it easier for military members to obtain a CDL, projected for publication next May; and a rule to require Transportation Security Administration background checks on hazmat haulers, which has no projected action dates.