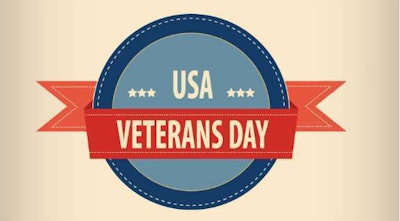 As noted in another Veterans Day post on Overdrive — Patriotism and trucking go hand in hand.
And as noted in a story on Overdrive sister site Truckers News, more than 20 million people who served in the U.S. military now work in the trucking industry in some capacity.
Trucking industry trade groups and companies within the industry have announced either their appreciation to veterans and initiatives aimed at boosting veterans funds.
Here's a look at some of those thanks and initiatives, along with links to some of Overdrive's Veterans Day stories:
Truckers News' Veterans Day salute: Overdrive sister site Truckers News has been collecting photos of veterans, submitted by readers, in recent weeks and has posted them in a gallery. Click here to see it.
'Patriotism and trucking': Overdrive has two profiles on owner-operator and former Army Captain Rob Ahlers. Ahlers started MSR Transport with two other veterans, and their goal was to form a trucking company that offers meaningful employment to veterans. Click here to read Overdrive's Todd Dills' story on Ahlers and his small fleet.
OOIDA's Hiring Our Heroes partnership: The Owner-Operator Independent Drivers Association announced this week it has partnered with FASTPORT and Hiring Our Heroes to help bring veterans into the trucking industry to become owner-operators. "We are proud to be partnered with these initiatives to help educate veterans on how to become owner-operators," says Jim Johnston, president of OOIDA. "More than 35 percent of our members are veterans, and we want to support their transitions into trucking and creating meaningful, lifelong careers."
ATA encourages vets to become drivers: The American Trucking Associations issued a message of appreciation today to veterans and is encouraging them to consider joining the trucking industry upon their return from service. ATA President and CEO Bill Graves issued this video address:
TA/Petro offering free meals: 220 Iron Skillet, Country Pride and other full service restaurants located nationwide in TA and Petro stops are offering veterans free meals on Nov. 11. All they must do is show proof of their service before ordering.
Pilot donation: Pilot Flying J announced it is donating 10 percent of its proceeds from the sale of coffee and hot beverages to the Fisher House Foundation.