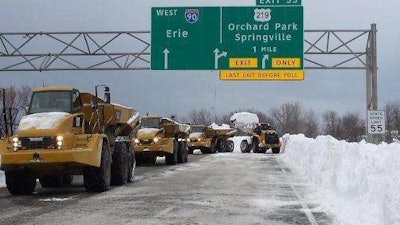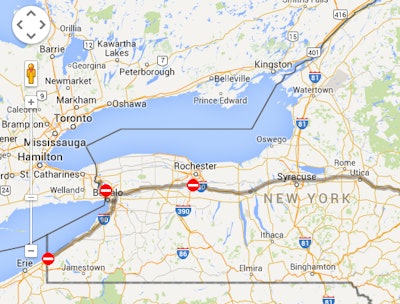 UPDATE NOON 11/21: A press conference held by New York Governor Andrew Cuomo revealed that the New York State Thruway would be partially reopened "at 3 p.m. today," reported Jacob Pucci of Syracuse.com. The roadway would be fully open "from Exit 46 in Henrietta to Exit 50 at I-290."
A second segment, between Exit 51 to the Pennsylvania border, would likewise be open, "but local exits will still be closed," Pucci reported. "Onramps will be open," likewise rest areas. Click through the map image above for the latest closure information from the Thruway authority, and read Pucci's report at this link.
As of Nov. 21 8 a.m. CDT:
With some sections having been closed for more than three days, as of the morning of November 21, the New York State Thruway remained closed around Buffalo, though progress was reported in clearing the road. Click through the map above for ongoing information about remaining closures from the New York State Thruway Authority.
"The Thruway (I-90) remains closed in both directions between exits 46 (Rochester, I-390) and 61 (Ripley)," noted the Thruway Authority. "And the Niagara Thruway (I-190) is closed southbound only between exits 16 (Youngmann Memorial Highway, I-290) and 1 (South Ogden Street) due to a significant lake effect snow event in Western New York."
On Nov. 19, New York State governor Andrew Cuomo visited some stranded drivers along the route, attendant to wide concern that the interstate was shut down too late.
According to the Associated Press, officials had not set a timetable for reopening as of Friday morning, November 21. Other major routes also remained closed around the region for a fourth day, including U.S. Highway 219 and New York State Route 400.
Photos and other tweets from the past few days tell part of the story:
RT @DieselTechForum: .@CaterpillarInc working to clear roadways to keep travelers safe in Buffalo. #snowvember pic.twitter.com/i1PxFvS0wM

— Overdrive Magazine (@OverdriveUpdate) November 21, 2014
Update from Buffalo area: trucking life still on hold. https://t.co/UZPdtAiQEX pic.twitter.com/sYtAysCrdq

— Truckers News (@truckersnews) November 21, 2014
RT @markpoloncarz: Driving w @NYGovCuomo through impacted areas of Buffalo, West Seneca. Amazing scenes of snow pic.twitter.com/x9O8QrQxtG

— Overdrive Magazine (@OverdriveUpdate) November 21, 2014
As if they didn't have enough already…. Buffalo area braces for more snow (WGRZ photo): https://t.co/fk290Et8iC pic.twitter.com/QKl8mfr0Es

— USA TODAY (@USATODAY) November 20, 2014
A closed New York State Thruway with more Weather coming it is unlikely to open until Friday pic.twitter.com/lPEQdleQ5H

— Harry Scull Jr (@hsjrphoto) November 19, 2014
NY Governor visits stranded truckers. https://t.co/RYjBLUm0yA pic.twitter.com/GyZKcTtPel

— Truckers News (@truckersnews) November 20, 2014
New photo showing the #stranded trucks and cars on the NYS Thruway in Cheektowaga, NY #Snowstorm #LakeEffectSnow pic.twitter.com/b1Le94j2ir

— Jordan Williams (@JordanNews4) November 19, 2014
RT @NWSBUFFALO: 9:25pm Thundersnow reported in Niagara Falls. #LakeEffect band continues south https://t.co/Bv45kHpavd pic.twitter.com/h7SXjYZV73

— Overdrive Magazine (@OverdriveUpdate) November 20, 2014
A lawa enforcement car checks a closed New York State Thruway. @TheBuffaloNews pic.twitter.com/AWQynRGt2x

— Harry Scull Jr (@hsjrphoto) November 19, 2014
Stay safe in NY! RT @FoxMariaMolina: All kinds of travel bans in WNY because of the feet of snow recorded there pic.twitter.com/p1Phc8rMKv

— Todd Dills (@channel19todd) November 20, 2014
This is a photo of the NYS Thruway late today. @STCRDO a new topic for your conversation. pic.twitter.com/igcYPAPG7E

— Rob Maciol (@SheriffRob) November 19, 2014
PICS: Just got these photos from viewer stuck on I-90 (Thruway) in #Buffalo, N.Y. IMAGES: https://t.co/x5UbctrIY1 pic.twitter.com/2c9TPKbJue

— WSOCTV (@wsoctv) November 18, 2014
Enormous wall of lake-effect #snow was seen sweeping across northwestern New York today: https://t.co/0FQyCo40j2 pic.twitter.com/EsrcyJwZHC"

— Lorene SunShine (@The1LCheatwood) November 18, 2014
This morning around 4:15 am in Salem Oh. at our trucking terminal. @OKCStormWatcher @NWSPittsburgh @breakingweather pic.twitter.com/bDfdndVdFR

— Michael Harahuc (@mikethedriver) November 17, 2014