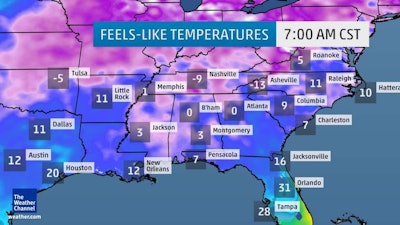 Blowing in from the upper Midwest to cover the Eastern seaboard and much of the Southeast as well (click through the image above for a near-term national forecast from Weather.com), the latest arctic temps had drivers all around the country Wednesday night contemplating all manner of methods for keeping warm. Overdrive readers, asked Tuesday evening on the magazine's Facebook page how they were staying warm, had a variety of wisecracks and information to offer, from Jason Walters' no doubt jealousy-inspiring bit of intelligence — "A/C: 85 degrees in California" — to Carl Filby's "Me and my demons are having a wrestling match. Winner takes the wheel tommorrow."
David Dallas: Truck running, heater ON!
Mike Jones: My bunk heater and the electric blanket made for trucks.
Steve Giuseppone: Home, sitting by the fireplace.
Scott Durant: I'm staying home until the arctic freeze moves out.
Lloyd Heaver Jr.: Sitting in a small diner drinking some joe.
James Romphf-Dennis: Two pups and a wife.
Mike Ryan: Battery powered bunk heater, which also keeps engine warm.
Leah Stevens: Running my truck and a feather duvet. Living the dream.
Find more via this link.
According to Weather.com, a second "shot of arctic air will move into the northern Plains and Midwest on Friday and into the East on Saturday, but it will not be as cold as the current round." Temps are currently about as cold as they're going to get this week, as of Thursday morning, for most areas. Stay warm, drivers!
Got a weather-related photo from the road? Share it with us in the reader gallery here.