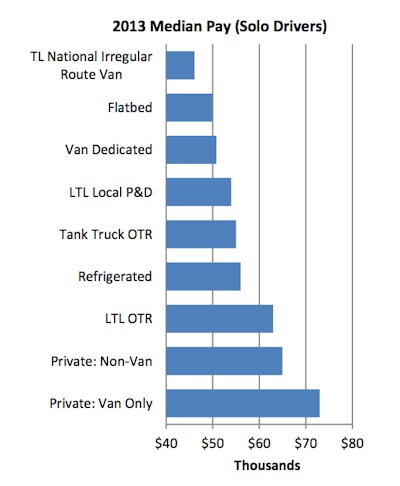 How does driver pay stack up to pay in other industries?
According to a report issued Dec. 15 by the American Trucking Associations, pay for truck operators is on par with the U.S. median and the industry generally offers what are deemed competitive benefits, such as matching 401(k) contributions and paid holidays off.
Median driver pay in 2013 for national truckload van drivers was $46,000 — $7,000 lower than the U.S. median household income of $53,000, ATA says.
Private fleet drivers, however, pull in about 60 percent more than that: Their 2013 average was $73,000, ATA's report says.
ATA surveyed more than 115,000 company drivers and about 17,000 owner-operators, spanning 130 fleets.
Truckload van drivers were at the bottom of the pay scale. Flatbed drivers surveyed reported earning right at $50,000 last year, while dedicated van drivers pulled in slightly more than $50,000.
Tank truck operators and reefer haulers made about $55,000, while LTL over-the-road drivers made more than $60,000.
Drivers at private fleets led the pay scale, however, with non-van drivers making about $65,000 and private van operators making more than $70,000.
ATA also notes in its report that pay packages for drivers may be changing, as carriers more frequently are moving away from mileage-based pay.
Three out of the four fleets in its survey indicated they pay drivers using more than one method, with the most common being a mix of mileage and hourly pay.
Forty-two percent of the carriers included in the study used two types of base pay methods, ATA says, and 35 percent said they used three or more.
Twenty-three percent reported using just one base pay method.
Also according to the study, nearly 80 percent of carriers offer paid holidays off and match employee contributions to a 401(k) plan.