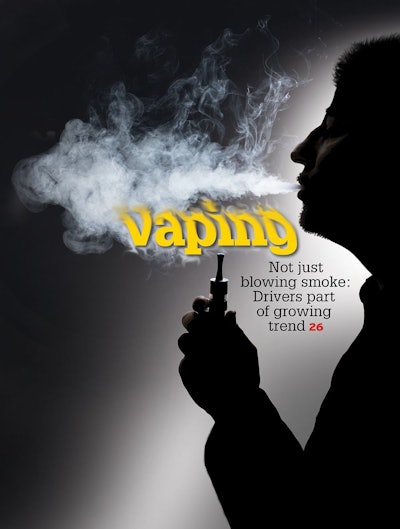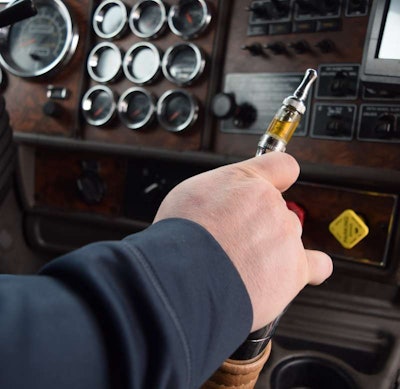 The lexicon jocks behind the Oxford English Dictionary named vape their 2014 word of the year following an explosion in documented use of the term.
Even before 2014, the practice of using electronic cigarettes and other personal vaporizer devices as a substitute for smoking tobacco had been growing steadily.
The trend is also prevalent among truckers, whose inclination for smoking is explained easily: The profession is full of long solitary hours and high stress levels, particularly in high-traffic environments. Nicotine, tobacco's addictive stimulant, not only can help fight fatigue, but often is described as a stress reliever.
Recent Centers for Disease Control estimates note a 19 percent smoking rate among the U.S. adult population. When it comes to long-haul drivers, though, surveys within the last 10 years have shown rates well above 60 percent. Add those who describe themselves as former smokers, based on Overdrive's 2015 vaping survey of more than 1,000 drivers, and you can account for roughly 70 percent of the entire driver population.
Truck stops have been carrying various e-cigarettes for years, and many are featuring the larger, better performing gadgets that vapers are choosing today. Part of vaping's newfound popularity among truckers and others is a perception that it's a safer way to deliver nicotine than smoking.
The health danger in smoking tobacco is well-known given the wide array of carcinogens in tobacco smoke. The vapor produced by e-cigs, however, contains largely only pharmaceutical-grade nicotine and an airborne mist of whatever base liquid is used. The so-called "e-juice" is typically propylene glycol (PG), vegetable glycerin (VG) or a combination of the two. Any e-juice also contains flavorings, in many cases the same as or similar to flavors used in food products.
However, health professionals caution that long-term nicotine use is known to cause heart and/or cardiovascular issues. E-cigarettes largely do nothing to combat those issues unless a no-nicotine solution is used – a practice reported by only 3 percent of operators in Overdrive's survey who'd tried vaping.
But it can't be as bad as smoking, the thoughts of many a smoker-turned-vaper go. Media reports on vaping have proceeded from that assumption, given what is known about the ingredients in the liquids.
The public-health wild card in vaping's newfound popularity is in part the newness itself: Long-term testing has not been done on potential harmful effects. Neither the base liquids nor many of their synthetic or natural flavorings were imagined to be used long-term on a daily basis. That's got regulators, doctors and the scientific community in a tizzy.
Nonetheless, as the federal government moves to regulate what's now an estimated $2 billion-a-year U.S. industry, new vapers among the trucking community vape on, content in believing that the practice is effective "harm reduction."
Vape 'em if you got 'em
Andy and Cheryl Anderson, owner-operators of ABCD Transport in Graham, Wash., have been vaping for nearly three years. Both smoked into their early 20s but quit long ago. The two have taken up vaping in midlife following the experience of Cheryl's mother. She was a "three-and-a-half-pack smoker since she was 11," Cheryl says, and had to have her gall bladder removed, which left her in extreme pain every time she coughed. She had to give up smoking or risk a painful recovery.
Cheryl tried an early "cigalike" version of e-cigarettes that remains available at convenience stores and elsewhere. Such devices, smaller variants that are similar to many larger personal vaporizers used more widely today, use a lithium-ion battery. It's screwed into a small cartridge containing a filter medium for liquid and an internal "atomizer" activated to heat up quickly when the user draws air through the cartridge, vaporizing the liquid. Cigalikes look and act like a traditional cigarette, and Cheryl urged her mother to try them instead of smoking to cut down the coughing.
Cheryl says her mother quit smoking two months later and "hasn't touched a cigarette since."
Before his first daughter was born more than six years ago, Texas-based independent owner-operator Cody Blankenship says he smoked "a pack a day or so." He quit for a short time after her birth, but missed the activity and moved to mini cigars, or cigarillos, that he bought in packs containing five or six. "I was smoking around two to three boxes a week. I never smoked in the truck, so it was mainly during downtime and on the weekends."
Blankenship continued the habit through his daughter's first few years, and after his second daughter was born, both complained of the smell radiating from him after he smoked a cigarillo. He also was aware of the habit's health drawbacks, so he tried vaping.
He started with an "e-juice" containing 24 milligrams of nicotine per liter, a typical high-strength dose among juices. After picking up vaping, Blankenship saw improvements in his rate of nagging colds and coughs, the bane of many a smoker's existence.
Unlike the Andersons, Blankenship started not with a cigalike but with a battery-and-tank system he purchased from his local vape shop. He quickly identified what would become his go-to juice there, a cinnamon-pear flavor "that I can't find anywhere else."
As a former smoker turned habitual vaper, Blankenship joins the 26 percent of respondents to Overdrive's survey who'd had some exposure to electronic cigarettes and had turned to them to quit smoking. In that group, less than half had managed to quit vaping, though the fact that many did might give some hope to those looking to escape poisonous tobacco smoke, if not a path away from nicotine altogether.
Not so fast
In a Seattle Times column last April that echoed a common refrain from the medical community, Dr. Ari Gilmore suggested vaping's touted efficacy in smoking cessation may be little more than marketing.
"While e-cigarettes have been marketed as an alternative to help people quit smoking," he wrote, "the rapid nicotine surge they provide is less likely to help in smoking cessation than traditional nicotine gum and patches," both of which deliver nicotine to the bloodstream in a more measured way.
Which of the following best describes your use of e-cigs/vaporizers?

In Overdrive's survey, one in five respondents who'd tried vaping reported occasional use in tandem with traditional tobacco cigarettes. As with Blankenship, 14 percent who vaped to get away from tobacco, rather than drop nicotine altogether, just continued to vape.
The Andersons themselves, as long-successful tobacco quitters before picking up e-cigarettes, are part of a smaller group that gives rise to a common worry over vaping's growing popularity. Gilmore expressed in his column that the marketing of e-cigs as safe alternatives and their wide variety of flavors may create a "whole new generation of 'starters' who may be drawn to the ease of use, lack of smell, candy flavors and a misplaced understanding that if e-cigarettes are safer, they are implicitly less addictive."
Gilmore, among other medical professionals, advised against use until potential long-term harmful effects are understood. Regulation of the devices and liquids used in e-cigs is coming and likely will shine more light on the materials used in making the devices as well as the ingredients beyond nicotine and the base VG or PG that are aerosolized from the juice. These are not under any sort of disclosure requirement today.
The Food & Drug Administration's proposal, released last spring, was simply to treat the devices and the juices as tobacco products requiring warning labels and subject to such requirements, requiring manufacturers to register product details with FDA before taking them to market. It remains to be seen how that might affect the booming business of juice makers and device sales shops across the nation, largely a mom-and-pop cottage industry.
Meantime, vapers like the Andersons are content with their choice. "I've read the 'for' and 'against' arguments on the e-juice and everything else," Cheryl says. "Some say it's worse, and some say it's better. I don't think a lot about it. I made a choice to do it."
Says Andy, "For me, nicotine just helps me deal with the stress that every driver goes through out here on the road, and I enjoy it. I enjoy this a lot more than I ever did cigarettes. That was more of an addiction. I didn't look forward to buying a pack of cigarettes back in the day when I was smoking."