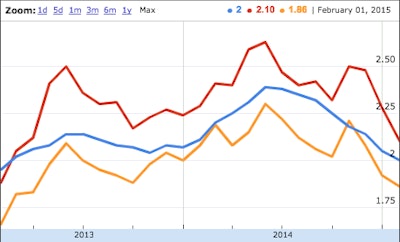 Per-mile rates on the spot market continued their months-long tumble in February, with all three segments — flatbed, dry van and reefer — seeing noticeable declines, according to data released this week by Internet Truckstop.
The downturn began in June, following historic gains in the first half of last year, most of which have now been erased by the roughly 8 months of drops.
Fuel prices could be the biggest driver of the declines, but loosening capacity and bad weather stints in February could also have contributed. Linehaul portions of rates, however, have generally been holding or trending upward, which is good news for carriers.
Reefer rates in February fell 18 cents from January to $2.10, Internet Truckstop reports, and rates in the segment are down 19 cents from the same month last year. They're also at their lowest point since March 2013.
Flatbed rates fell 5 cents from January to $2 — a 6-cent drop from February 2014 and the lowest flatbed per-mile rate since February 2013.
Van rates dropped 6 cents in February to $1.86. They were down 22 cents from February 2014 and hit their lowest point since April 2013.