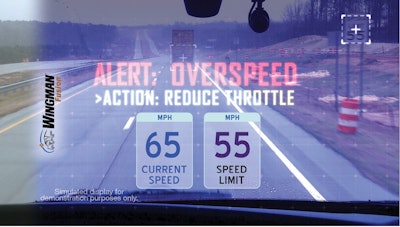 Bendix unveiled March 25 the next generation of its Wingman active system, dubbed the Bendix Wingman Fusion, which incorporates the company's Electronic Stability Control system, its Wingman Advanced collision mitigation technology and its AutoVue lane departure warning system.
The updated system was introduced at the Mid-America Trucking Show in Louisville, Ky.
The new Wingman Fusion combines those three elements into one system, and when used, it will alert drivers with lane departure warnings and following distance alerts.
Potentially most pertinent for truck operators, however, are the system's autonomous actions, such as braking when a collision is anticipated and engine disengagement when the truck speeds longer than the system's programmed threshold.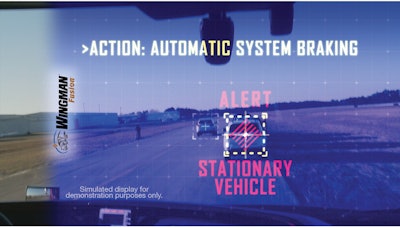 The system relies on a combination of radar and camera data to produce the alerts and engage braking or slowdowns.
The new overspeed alert and action feature is activated at 37 mph and works with Bendix ESP. It uses the system's camera to automatically read posted speed signs and compares the speed limit to the truck's current speed. It then issues an audible alert if the truck is more than 5 mph over the posted speed limit. If the truck is more than 10 mph over the speed limit, Wingman Fusion provides an audible alert as well a one-second engine throttle reduction to get the drivers attention.
Bendix says fleets can modify these thresholds depending on their individual speed parameters. Bendix SafetyDirect also will capture a video of the event and transmit it to the fleet's safety operations for driver coaching.
The system is available for all Class 8 truck manufacturers.
Regulatory updates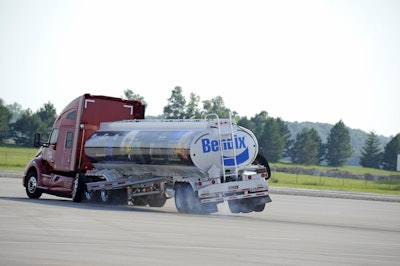 A Final Rule to require all new trucks to be equipped with Electronic Stability Control systems will come this year and potentially as soon as May, said Bendix Commercial Vehicle Systems' Fred Andersky, director of government affairs. The U.S. Department of Transportation's National Highway Traffic Safety Administration is the regulatory agency responsible for the ESC mandate rule, and it's forecasted to publish the rule May 7, per the latest DOT rulemakings report.
Andersky, however, says he hopes to see the rule come by the end of June, referring to the DOT's penchant for missing its forecasted publication dates.
Following the ESC mandate, Andersky said, NHTSA could set its sights on a similar mandate: Safety advocates in February petitioned the agency to require new trucks to be equipped with collision mitigation systems — those that brake autonomously to avoid crashing into objects in front of the truck, such as rear-end crashes.
NHTSA has 120 days to grant or deny the petition, Andersky said, and Bendix expects the agency to grant the request and proceed with a rulemaking to mandate collision mitigation systems.