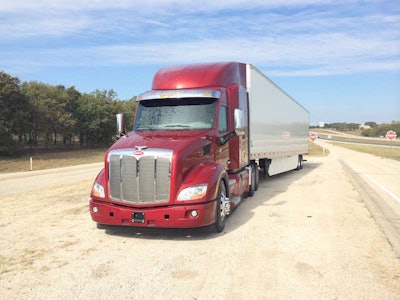 Peterbilt Motors Company is now offering Bendix Wingman Fusion driver assistance safety systems on its Models 579 and 567.
Wingman Fusion uses radar, video, multiple sensors and the truck's braking system to create an view of everything going on around the truck.
"Fusion sets new benchmarks for accurate decision making," said Scott Newhouse, Peterbilt chief engineer. "The optimized communication between safety systems working together takes driver assistance technology to a new level of performance."
Some features the Wingman Fusion system will provide to the Peterbilt models include:
Stationary Vehicle Braking – Drivers are given up to 3.5 seconds notice when the system detects a large, stationary, metallic object in the same lane as the truck. If necessary, when the object is identified as a stationary vehicle, brakes are automatically applied.
Lane Departure – When an unintended lane change is detected, an alert that sounds like a rumble strip is activated so the operator can remain in the correct lane. The alert does not activate if the turn signal is used.
Exceeding Posted Speed Limit Alert and Action – When the truck is travelling more than 25 mph, the system begins reading the posted speed limit on standard roadside signs. If the truck is going more than five mph above the posted speed limit, the operator is alerted to slow down. If the truck is travelling 10 mph or more above the posted speed limit, the operator is alerted and a one second de-throttle is provided to maintain the driver's attention.
Enhanced Collision Mitigation – With constant cross-checking of camera, radar and other sensors, the system provides analysis of potential conditions. "Collision mitigation performance is greatly enhanced and reacts faster than previous systems to avoid or mitigate an impact," Newhouse said.
Following Distance Alert – When following a vehicle too closely, audible and visual alerts will activate until a safe following distance is attained.
Alert Prioritization – If multiple system alerts are activated simultaneously – such as lane departure warning and collision warning – the system prioritizes the alerts and delivers the most crucial alert to the driver to minimize distraction.
Peterbilt is also offering the Bendix Blindspotter system that gives drivers visual and audible alerts when vehicles are in the truck's passenger-side blind spot.