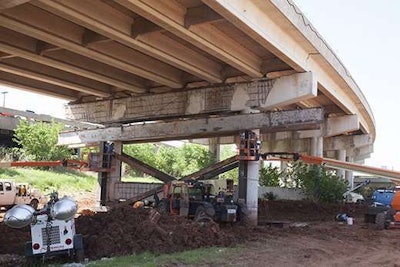 The I-44 Belle Isle bridge rehabilitation project under way in Oklahoma City ran into snags recently as crews discovered more problems than they bargained for during routine work. The bridge, built in 1978, has been undergoing inspection of the bridge deck and piers. Crews then chip away of any old concrete to prepare the bridge piers for sandblasting and new concrete.
During the execution of this step, crews discovered extensive damage to two of the piers so far.
On Friday, April 17, this prompted lane and ramp closures between Pennsylvania Ave. and Western Ave. Engineers narrowed I-44 to two lanes in both directions between Penn and Western and closed the eastbound I-44 on-ramp from eastbound Northwest Expressway and the westbound I-44 off-ramp to Northwest Expressway to begin extensive repairs to the two piers.
Currently, crews are adding steel supports to two of the piers. Plans are to have this work completed by early May and open the closed lanes to traffic. However, engineers are evaluating additional piers and anticipate more could need repairs which could extend or cause additional closures. There are a total of 80 piers on the entire bridge, all are being evaluated. The current project will be completed early next year.
Engineers, OklaDOT reports, are confident the bridge is safe while the two piers are being addressed and would close the bridge should any findings reveal otherwise. The bridge is being monitored daily.
OKEMAH- I-40 narrowed to one lane in each direction at SH-27 through Fall 2015 for bridge rehabilitation. On/off ramps are open.

— OKDOT (@OKDOT) April 24, 2015