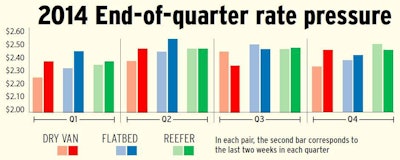 In late March, June, September and December, freight picks up and yields generally higher rates across varying segments, says Truckstop.com head Scott Moscrip. Rates can spike, he says, as "companies try to move their goods out of their factory or distribution center so they can book it as moved and gone" in quarterly reports. "It's one of those odd things that happens."
For every quarter excepting the third in 2014, dry van paid-rate averages for the final two weeks of the quarter showed a marked premium above the entire quarter, with the largest difference seen in the second quarter. Flatbed followed similar patterns, but with the biggest positive difference seen during the last two weeks of the first quarter.
Reefer rates, however, showed considerably less variation at the end of the quarter than both dry van and flatbed, perhaps reflecting the more stable demand for food freight.
Explore 2014 average rate data by negotiation day in online interactive form at this link to Overdrive's interactive rates tool.