[youtube 5RNMGGLwfrI nolink]
"Dancing trucker" Big John Drury, running currently for Cowan Systems and based in Cincinnati, in 2011 shed 100 pounds by dancing, simply put. Since then, the driver has led Zumba classes and made the rounds of truckstops throughout the states in his region leading workouts with drivers.
At the Great American Trucking Show, as he explains in the video above, he's partnered with Progressive Commercial to spread the message of health through dance. At 3 p.m. in the Fit for the Road Health and Wellness Pavilion, as he notes in the video above, Drury will dance to three songs — registered attendees at the event will have a chance to win a $5,000 prize care of Progressive commercial.
"As the No. 1 truck insurer, Progressive has made September Trucker Health Awareness month" for the second year in a row, the company says in a press release. "Throughout the month, Progressive is holding live health and fitness events for truckers, adding helpful trucker health tools to its website, and holding a sweepstakes to raise awareness and show appreciation for all that truckers do as the hard-charging knights of the road."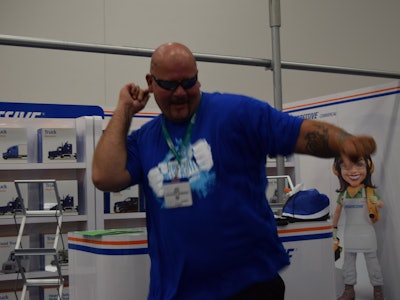 As this reportgoes to press, Big John and other dancers were working their way through the convention center crowds to engage attendees. Things will really get moving on the main stage in GATS' new health pavilion at about 3 p.m. Big John and the dancers will perform to two popular songs and an original trucker anthem created especially for the event, Progressive says. Hear more about it all in the video at the top.