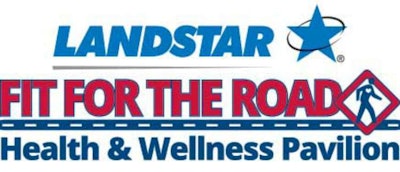 The Landstar Fit for the Road Health and Wellness Pavilion at the Great American Trucking Show is offering numerous services to help truckers and GATS attendees learn healthy habits.
New to GATS this year as part of the health pavilion is the mobile mammogram unit, which is located near the shuttle drop-off outside the Kay Bailey Hutchison Convention Center.
Rick Ash, president of Trucker Solutions Group, a partner with the health pavilion, announced Thursday mammograms will be available free of charge for those without insurance.
"We're proud to say every mammogram this weekend will be completely free," Ash said. "We ask you to use insurance if you have it, but thanks to donors, we're able to offer all mammograms for free this weekend."
Baylor Scott & White Health is providing the mobile unit for the mammograms. To make an appointment for a mammogram, visit Booth No. 22166 on the show floor.
Ash said TSG's goals coming into GATS for the health pavilion were to take away obstacles keeping drivers from getting health insurance or healthcare and to take away the time factor by having everything at the show.
"Thirty to 40 percent of drivers don't have insurance or don't seek medical care in addition to their required DOT physicals," Ash said.
Also partnering on the health pavilion are Progressive Insurance, Urgent Care Travel and Melton Truck Lines.
Melton started a wellness program nine years ago, according to the company's wellness manager Brett Bringham.
"We started the program by closing down our indoor smoking lounge for truckers," Bringham said. "We made into a gym. We're up to 95 percent participation in this program. We had a big financial incentive to begin with, and now it's just part of the culture of our company."
For the second year, there is also a registration table for bone marrow transplants with Make It Happen USA at Booth No. 21167.
There are also numerous free health screenings available around the pavilion open for drivers and any attendees to the show.