This summer has been a whirlwind of shows and awesome trips. I look back over the posts pretty regularly, to make sure I'm not repeating myself horribly – it gets a little difficult to be charming and new three times a week, after 600 posts. I am often at a loss, but it never fails that I see or hear something crazy, weird or new, and I'm off again to blog land. I really do have an appreciation for those who produce the bulk of content for this magazine – TD, JJ, and the other editors crank out some serious wordage, and it's ain't always easy.
We're getting back into the routine of things with the chassis run – George has it down to a science and can be home every other night, which is fantastic for our eating and exercise habits. I've lost 18 lbs. this summer, George is down 11, and we've done it by completely avoiding the word "diet." (George will attest to the fact that going from a box to a flatbed has helped him drop at least half of that in the last few weeks – but we don't diet.)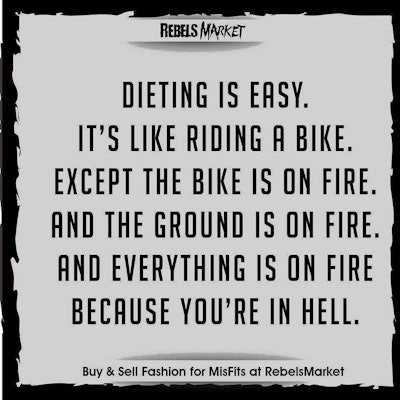 I had the opportunity to give myself a series of silent strokes while hosting a nutrition talk this year at GATS in the Landstar Health Pavillion. I'm really surprised I was able to speak and function. They handed me a microphone and everything went blank. I smelled smoke, and realized it was a synapse in my brain burning, so my body was auto-forced into doing what I told Tom Kyrk I'd do for him (which was stand up in public and talk to real live people) on emergency power and lights. Thankfully, I had a very good panel who made up for my dismal floundering, and we had a really informative discussion about individual ways to be healthier on the road.
I don't remember much about the actual discussion, but thankfully, George was able to get it on video, and other than sounding like a drunk hillbilly, you can hardly tell I'm terrified. I'd like to make a disclaimer here and state that I have no idea why I sound like I just crawled out of a still in a Kentucky hollow when my voice is recorded, but I hate it. Early on, Max asked me to record some of the blog posts for podcasts, and I did one and hated it so much I never did another one. I vote we hire someone like Sophia Loren to read my stuff for podcasts, she has a nice, exotic voice that could make anything sound awesome.
I digress. But you're used to that by now.
Anyway, I believe the people who attended the nutrition talk took away the point that was made most, by everyone involved in the discussion. It's important to pick and choose a routine that suits you. Even though the panel represented everything from vegan to no-grain diets, everyone basically said the same thing – it doesn't matter what method you choose, if you don't choose one you'll stick with personally, it's not going to work. You shouldn't make drastic changes and expect to have great results – make slow, small changes, implementing whatever diet and exercise strategy you feel comfortable with. This is the age of information – there are literally thousands of free programs and regimens on the internet to choose from. It takes a little time and effort on your part, but the information is out there, and you can educate yourself about almost anything for free.
Another point that was made, and bears noting, is that it's not really the responsibility of the truck stops to feed you well. It would most definitely be nice for them to adopt the policies of better food, but the bottom line is it's your responsibility to feed yourself well. It can be done. It requires planning and extra work on your part, but it can be done, with or without the truck stops participating. There is a very large public movement towards cooking in the truck (Linda – I kept myself from using "on" just for you). The corporate marketers from truck stops are paying attention to the movement, and things will eventually progress toward better choices in truck stops, but until they do, it's still possible to be healthier on the road. You can do it. And you don't have to "diet." It's a four letter word.