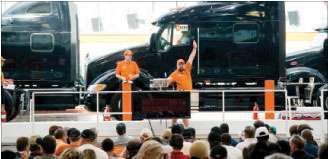 Truck buyers in the region around North Central Texas (and far beyond with the magic of the Internet) will get the opportunity to bid of a bevy of trucks, tractors and trailers two weeks hence during a Ritchie Bros. event slated for Sept. 23-24 at its Fort Worth facility and also accessible online.
Up for bid will be more than 285 truck tractors, 415 trailers and 30 dump trucks, among other equipment from cranes to various pieces of yellow iron and farm tractors. "Every item will be sold," the company notes, "with no minimum bids or reserve prices. Bidders can participate in person, online at rbauction.com and by proxy," or via a representative who bids on your behalf.
Our recent Truck Purchase and Lease Survey attendant to July truck-market reporting showed just 2 percent of owner-operators reporting their most-recent truck purchase as having come at auction, a percentage that appears to have grown little in recent history. At once, as Max Heine detailed in this post from some years past, auctions have their advantages.
Among advantages are prices ultimately paid that tend to fall somewhere between wholesale (what a dealer pays) and retail. While auctions are where a lot of dealers routinely go for purchasing themselves, owner-operators have an advantage over dealers in the bidding process, Heine noted, given the dealer wants to leave a sizable cushion for mark-up. Explore other advantages/disadvantages at this link.
Says Dolan Aucoin, regional sales manager for Ritchie Bros. "Equipment and trucks can be previewed on our website and inspected and tested in the yard, and every item will be sold to the highest bidder on auction day—no reserve prices, no minimum bids."
Day Two of the Fort Worth auction is so-called "transportation day." More than 150 Kenworth transport trucks and 40-plus Peterbilts, as well as Internationals, Freightliners and other trucks, will be sold, the company says. Many of the transport trucks have been inspected to National Truck Protection and Federal Department of Transportation (DOT) standards and are eligible for a Ritchie Bros. warranty.
A full list of items in the Fort Worth auction can be found at rbauction.com/Fort-Worth, including a link to all warranty-eligible trucks.
Follow this link for more on the decision to and strategies for purchase at auction.