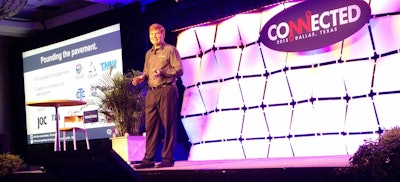 In remarks that opened Truckstop.com's first-ever "Connected" user conference in Dallas, company CEO Scott Moscrip (pictured) defined 2015 as the Year of the C. 2015 has been marked by concerns with capacity (too little early in the year, then too much), contraction with a spate of mergers and acquisitions throughout the brokerage and carrier worlds, and the cacophony around the latest technology that "will change everything" – think delivery drones, driverless vehicles, and Uber and other supposedly "game-changing" smartphone apps.
Contraction in terms of a slower-growth period in the wider economy (and freight) in this latter half of the year, too, could define things significantly moving into 2016. "Things are not as speedy as they were the first half of the year," Moscrip said. But "after seven straight years of growth, a little contraction is not a bad thing."
Year 2016 would be defined differently, ultimately – the coming "Year of the Pirate," or year of the R, Moscrip noted, would see new government regulation lend new wrinkles to the business of trucking. Currently, as Overdrive has reported at length, three major rules have reached the final stage before clearance toward publication. Two rules to require the use of electronic logging devices and speed limiters both have been under review at the White House's Office of Management and Budget for some time, and recent news reports showed a rule to require some form of pre-CDL driver training move to OMB as well.
"We'll have regulation, and it's not going to be fun," Moscrip said. "I can't tell you any way to get around it. If it were up to me, I would fire everyone at FMCSA except the administrator – and would replace them with people who come from logistics or trucking" in order to produce "regulation that would be useful."
Conversations with customers over rates, too, would boom on the contract freight side moving into 2016, said Moscrip. "How many of you are saying, 'Look, we've got all this regulation coming and we have to pay drivers better. We need rates to improve.'?"
If you're not, you need to be, Moscrip told the brokers and carriers in the audience.
Both such entities have been "getting mixed signals from customers," he added, on those prospects. "Shippers are saying … 'We're in a global slowdown. We need to cut costs.'"
All told, 2016 will be "an ugly year for rates" rather than particularly good or bad, Moscrip predicted. "Shippers will demand that you cut rates." Others may "partner with you" to work toward saving costs in other ways.
New products, features on the way
A midday session unveiled four new products Truckstop.com plans to unveil in the first quarter of 2016. Most significant for truckers is its LoadPay online payment system built specifically for the transportation sector.
"It is incredibly simple to use and, on the plus side for the carriers, puts you in charge of your cash flow, finally," Moscrip said, removing the often frustrating necessity of call after call after call to check on payment. "When you haul a load for a broker … the broker authorizes the payment and it will go into your pending-payment list. It will show the list of everyone that owes you money on the LoadPay system. LoadPay also will allow you to get advance payment, at a discount, on any payment you've been authorized to receive."
As rates decline — and, as stated previously, Moscrip expected some downward pressure moving into next year — cash flow issues would rear their heads for both brokers and carriers. LoadPay, he hoped, would at least help alleviate some of those issues.
Rate Analysis 2.0
Real Time Freight General Manager Trent Broberg introduced the 2.0 version of Truckstop.com Rate Analysis tool for determining appropriate freight rates for particular lanes and commodities in both truckload and LTL operations. The new version offers robust benchmarking tools and automatically adjusting metrics for a variety of loads.
Users will be to customize data sets to use for analysis, and "we'll be including a lot of information from Truckstop.com" to help in benchmarking against the rest of the industry, Broberg said.
The endgame for many brokers and carriers could ultimately be "truckload auto-rating," he added, and "we do have customers who do that today."
CargoShield per-load insurance
Intended primarily for brokerages, CargoShield will offer per-load transactional coverage – available in $50,000 or $100,000 values – in the United States and Canada in early 2016. In the event of a cargo claim, which can take an increasingly long time to process, a 30-day-or-less payment from cargo shield can cover a broker's shipper customer's loss, protecting the relationship, while the primary claim is processed.
Business intelligence tool
Moscrip also announced a "series of business intelligence tools that utilize data to enhance decision-making and identify hidden opportunities that exist in your business," he said. This suite is something of a scoreboard on which carriers and brokers can score themselves against competitors and industry averages — or against themselves. "You'll be able to load your data" in key metrics "into your scoreboard and see how you're playing against the rest of the industry. How your rates are playing against others'," for instance.
Truckstop.com, he added, has its comparison data "basically uploaded now. We're just waiting for your data to compare it to."