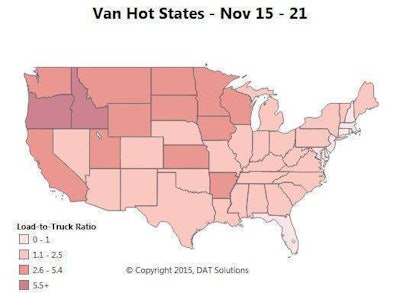 Load volume is the story of the last week in van freight, and as a general rule it was a positive one. Load availability anticipated the holiday weekend with an increase or 13 percent on the spot market last week, as represented on DAT Load Boards. Truck posts declined almost a percent as well, giving the load-to-truck ratio a 14 percent boost to 1.8 loads per truck nationally.
The Pacific Northwest lit up the map, with Christmas trees leaving Oregon and Washington, and potatoes rolling out of Idaho. Other states where high demand and a relative few trucks make it easy to find a load: South Dakota, Kansas, Wisconsin, Iowa and Arkansas.
Fort Lee, N.J., and Louisville, Ky., both show major interstate intersections in the "top 10" for the worst freight congestion in the entire United States, according to the recently released annual study by the American Transportation Research Institute. Getting out of New Jersey with a decent load, too, is always difficult – especially when you're right near the major bridge into Manhattan. When you do find a load, the rates are low – last week, only $1.17/mile on average to Louisville. Plus, there is almost no way to get back to Louisville without considerable deadhead.
If you can get back and forth between Louisville and Fort Lee in three days, just go for it. If your trip spills over into a fourth day, look for a TriHaul opportunity. With less than 20 miles driving empty to Newark, you can pick up a load there to Richmond, Va. Rates are much better on that lane. Rates aren't great out of Richmond, but the traffic is not as bad, and you still end up with an additional $542 in your pocket for the roundtrip. Examine the details below.