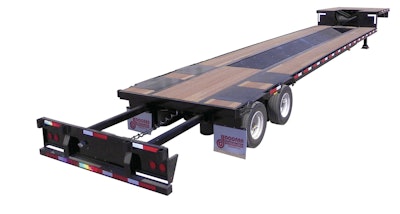 Doonan Specialized Trailer has developed a boat trailer design for one of America's industry leading boat manufacturers. Advanced engineering and manufacturing processes were key in the design of a niche series of 48-foot by 102-inch Black Gold Dropdeck trailers, encompassing a 10-foot top deck, V–type cross-members and a 5-foot rear pull-out extension.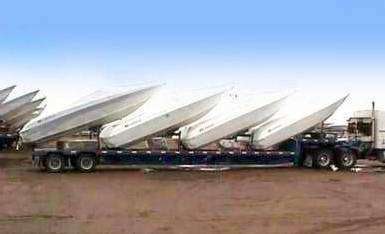 The 90,000-lb. GVWR-rated trailer was developed to haul either a load of boats lying flat or a stacked load, standing at an angle on custom racks that fit a specialized stake pocket design. Doonan's design incorporates a custom V configurement at the rear of the top deck, and in the V'd center section of the trailer. This feature allows room for the hull of the boat to "set-in and seat lower," the company says, in order to stay under overall legal height requirements.
Additional features include an Apitong wood floor at the rear and along the sides of the center V-design to allow for other freight types, specially designed stake pockets and dual rubrails and a Tiremaax Pro Air Inflation System for increased tire life.