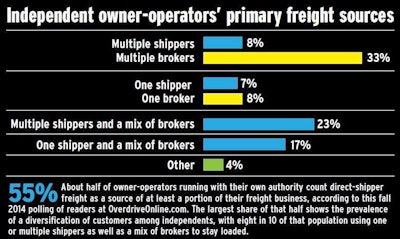 Prior installments in this feature series are available via the following links:
Working the spot market via load boards, it's likely you'll never lay eyes on the face of the freight broker. You may never speak to him again, even if the load goes well. By contrast, going after direct shipper contracts is largely an exercise in relationship building.
The NASSTRAC shipper organization's Gail Rutkowski stresses the personal nature of trucker-shipper relationships throughout the business.
Even in Web software-enabled RFP (Request for Proposal)-type contract bidding situations, in which "smaller fleets tend to be at a disadvantage," Rutkowski says, winning contracts is most often predicated on more face-to-face relationships. Most come down to "looking each other in the eye and agreeing to do business with each other. All the technology in the world never replaces that relationship."
Don't automatically shy away from RFP tech
NASSTRAC's Gail Rutkowski urges small carriers, if they've never tried it, to dip their toes into the world of Web-based RFP (Request For Proposal) freight bidding tools used by the larger manufacturers she represents in her advocacy organization. RFP scenarios for freight typically come into play with major shippers.Rutkowski recognizes the challenges for small fleets that would participate in large RFPs, including software licensing costs and training. "They can be a good source of business" all the same, she says.Carriers that can "handle the Web tool" gain an advantage in "looking like a big tech-savvy carrier," Rutkowski says. Many tools, meanwhile, have become sophisticated enough to "allow you to bid to your strength. Say a shipper has 500 loads a week in your lane – you could limit your bid to, say, 25 loads."

Most smaller entities will get their feet wet working in RFP situations via 3PL firms/brokers that "can run the bid on your behalf," she says. Otherwise, getting qualified as a carrier with a large shipper would be the first step, depending on the tool that shipper uses. "They'll qualify a carrier first, then the RFP will roll out to the carriers and brokers they've selected."

Here are a few software systems' websites where you can read more:
Bid$ense
BidTools
CombineNet
As owner-operator Zach Beadle puts it, selling by example is any owner-operator's best weapon: "If a man's not honest and is not hardworking and willing to do the extra thing, it's going to be tough to make it."
Beadle's current half-dozen customers are a result of "culling a bunch that I won't work for." Speaking of the livestock portion of his business, it didn't take Beadle long in the early 1990s to identify the shippers who "will try to squeeze 10 loads on eight trucks" to pad their bottom lines with no regard for legal weights. "I started learning who to weed out and who not to work for. They just want to increase their bottom line and don't care about you."
About half of owner-operators running with their own authority count direct-shipper freight as a source of at least a portion of their freight business, according to results of the following fall 2015 polling of readers at OverdriveOnline.com. The largest share of that half shows the prevalence of a diversification of customers among independents, with eight in 10 of that population using one or multiple shippers as well as a mix of brokers to stay loaded.
Independent owner-operators' primary freight sources
Owner-operator Duwayne Marshall attributes the success of his 20-years-long relationship with his grocer customer to effective and frequent communication. "Trucks and drivers break down – they get tired, they get ill," he says. "As long as I stay in contact with my customer, they are really good about everything."
Marshall's skill in maintaining relationships with effective communication is evident in an ongoing relationship with the broker he previously worked for to haul a grocer's freight. When the grocer came to Marshall eight years ago after the grocer-broker relationship went sour, "the broker threw around the noncompete clause," he says. "I said, 'Look, I did not solicit. They called me.'
"And I actually still work with that broker. You try not to make enemies."
Another example shows how lack of effective communication can jeopardize a relationship.
A recent LTL shipment Marshall brokered coming into Wisconsin from Washington state was with a carrier he knew well, but he didn't know the driver. "I told him, 'Any problems, just call me.' "
The receiving grocer made special arrangements based on the expected delivery time. Meanwhile, the driver encountered delays and failed to notify Marshall.
The grocer "was so upset simply because nobody called me. He brought a crew in to break the load down and had spent Sunday moving things around. I still do not know the guy's excuse. If he'd have called and said, 'I just can't hack the mission,' " there would have been plenty of time to readjust, smooth things out in advance.
"When I started trucking," Marshall says, "you had to find the phone bank at the truck stop. Now, with communication being so easy, a text message, an email, whatever. . . . Even if you're embarrassed and you don't want to face me, send me that text message, and we'll work it out. I can't work anything out if I don't have the proper information – the truth."