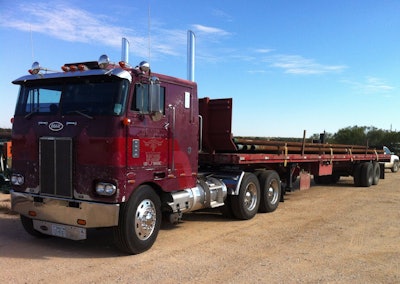 The prior installment in this feature series is available via the following link:
Charlotte, N.C.-based Henry Albert, one of the Freightliner Team Run Smart pros test-running the latest technology, is also a past Overdrive Trucker of the Year. Albert garnered the distinction in 2007 when he was hauling direct-shipper freight on north-south runs.
His willingness to go to the Northeast became one among his many answers to a question he says owner-operators must be able to answer before bidding for direct freight: Why you?
Or, as a Small Business Administration consultant in the Charlotte office put it to him as he was just starting out as an independent: "Why is anybody going to use you to ship their material?" says Albert, paraphrasing. "I hesitated about half a second, and he said, 'I don't want to hear your answer. If it's not on the tip of your tongue, you're not ready.'
"When you're going in to call on XYZ customer – why in the world would they entrust their freight to you? Somebody's already doing it today. The fact that you're 'reliable and professional' is all well and good, but who cares? That's what everybody says."
The defining distinguishing factor could take many forms.
Equipment
Maybe you have a specialized trailer that makes you unique in your area for a customer's particular piece of freight.
Such distinctions have helped Texas-based owner-operator Zach Beadle lay the groundwork and cement relationships with shippers over the years. After he got into business independently in 1989 with a 1976 Peterbilt cabover and a 1977 Wilson Stocker Feeder livestock trailer, he hauled cattle from sale barns and other customers after almost a decade getting experience hauling cattle as a company operator. But three years after he went into business on his own, he also spent $2,500 on a Trailmobile flatbed to take advantage of a feedlot owner need to move round bales of hay.
Years later, acquisition of a gooseneck heavy-equipment trailer expanded his versatility, and today his "half a dozen or so" direct customers are a result of that diversification.
Geography
Lane specialization also could be what sets you apart, as it eventually did for Albert. "Our specialty was going to areas that a lot of people didn't want to go to – the Northeast" primarily, he says.
A pitch to prospective shippers went like this: " 'Give us the account that complains every time you give them anything.' We'd do a few things that would lead to them calling back to the shipper and saying, 'You need to send them all the time.' "
Identification of what made the load a problem really "wasn't typically that difficult," Albert says, beyond dealing with the obstacles that made the loads so aggravating or difficult for others. "You went in identifying there was a problem and figuring out a way to make that problem an opportunity for yourself."
Utah-based Brandt King also approached shippers with geographic specialization in mind when he started out as a one-truck business. Today, the owner of King Farms Trucking of Utah, a refrigerated fleet of 34 trucks, says the large majority of all of his 23 drivers' and 11 owner-operators' loads both outbound and back are shipper-direct contract freight.
King started out driving about nine years for a small fleet that focused on dedicated lanes. He "learned under that business model, with its emphasis on building out-and-back lanes loaded both ways with shipper-direct freight. When he went out on his own, using the Internet Truckstop (now Truckstop.com) load board, he survived the first couple of years doing his best to "stick to lanes" he was intent on learning.
He made contacts talking to folks on docks and taking a soft sales approach with the logistics managers he ultimately approached about potentially doing business direct, careful to respect noncompete clauses that may have been in his broker contracts.
For King, the laid-back sales approach worked. "'Why don't we try out a load a week – for a few weeks?' " he would say. "After I do a fabulous job, later he's calling me when his other carrier falls off to do two loads a week." Things proceed from there.
His small fleet now works lanes both due east and west of its headquarters in Tremonton, Utah, sending loaded trucks out "to get the backhaul" from a direct customer coming back. "We do 15 trucks a week twice out to the West Coast. The other 15 go east of Utah each week."
Freight niche
Beadle's experience early on hauling cattle as a company driver taught him that business, which makes up 40 percent of his freight today. Wisconsin-based owner-operator Duwayne Marshall learned the less-than-truckload reefer niche via relationships with brokers.
Marshall established himself by using brokers to haul sausage and cheese outbound from Wisconsin and for 12 years regularly working with one broker for the return trip with LTL reefer loads for a five-store specialty grocery. For the last eight years, he's been the house carrier for that grocer doing business direct, also operating a brokerage himself for freight with an origin of Washington State or elsewhere that he can't cover with his own 2013 Kenworth T660 and reefer trailer.
He uses his own unit on the main account on a 10-day turn out to California and back. A run in November started outbound from Wisconsin on a Friday to "deliver Monday or Tuesday," Marshall says. "I'll start making pickups on Wednesday-Friday, sometimes longer," loading at multiple facilities with "a lot of one-pallet stuff, two-pallet orders," sometimes more.
"A typical week is probably eight pickups," Marshall says. "A really heavy week is as many as 14." It's similar on the way outbound with Wisconsin sausage and cheese – six to eight picks.
Though Marshall is well established with his customers and doesn't particularly need to work new relationships, Albert says that such kinds of operations can offer great opportunities for networking with potential clients. "If it's just an 'open the door, close the door' affair and you're not coming into contact with people" often, he says, it can be hard to create opportunities.
In more ways than one, says Marshall, success in building direct business – and the same could be said about establishing long-term relationships with key brokers – is about effective "communication, communication, communication."
Talking both rates and bookkeeping with the grocer in the beginning of the relationship, "We made rates almost overly simple," says Marshall. "I charge by the pallet spot," and the wide variance in weight evens out, making it "easier for the customer's bookkeeping – they figure out all this stuff on a per-unit cost basis."
Recently, communication led that give-and-take back toward Marshall's direction. When the direct-business relationship began eight years ago, they set three seasonal rates. Over the years, the lowest of the three rates proved unworkable for Marshall. Then, as fuel surcharges dropped with fuel last year, and equipment costs skyrocketed, Marshall proposed a significant change in the seasonal rate structure, doing away with separate rates altogether in favor of the higher, summer rate, to compensate for his extra costs. A couple of hours later, Marshall checked his email, where he saw a note from his shipper with a simple message, testament to the strength of their long relationship: "Go ahead."