It's a point of pain for many an owner-operator — negotiating rates with brokers who can seem too often like they're in control of the situation. Pat Dickard, Truckstop.com's guru on various aspects of the trucking business for both owner-operators and brokers, recently walked an audience of both brokers and carriers through some tactics and strategy aimed at enabling listeners to be able to "talk about rates without having to self-medicate with Tums or take extra blood-pressure medicine."
At bottom negotiation should be an exercise in relationship-building, Dickard said in last week's installment in the Truckstop.com Business Development Webinar Series, and best managed by knowing what you're worth and being able to clearly articulate it.
"If you aren't willing to learn to articulate what your worth is and willing to negotiate your rates successfully, nothing is going to change," Dickard says. The "secret to negotiating successfully is simply to take the ego out of the equation. Emotion, luck, magic – none of those have any place in a successful negotiation." Rather, a combination of "research, street smarts and unblinking discipline" will drive you down the path to better outcomes.
Owner-operators' biggest issues around rates/negotiation
Source for above: Overdrive's 2016 Operational Survey
Be able to determine what sets your business apart, Dickard says, answering the big "Why you?" question for any broker or shipper customer, with any load.
If you haven't already, determine your break-even point — above which every cent per mile is profit — including all fixed costs and close-as-possible estimates of variable operating costs, based on your own recent history. Maintain a profit target above that as a reference point for your desired rate (the average owner-operator hovers around a 40 percent profit margin).
For load-specific costs to give a more accurate break-even for an individual load, carriers should always know the points of information in the following image, from one of Dickard's slides: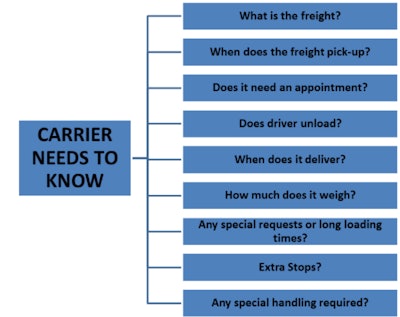 "The person with the most information in any negotiation will most likely do better," Dickard says.
Know what the demand position is in your area for your trailer type. Truckstop.com's Pintac function on the load board gives you the ratio of outbound to inbound loads at any given moment in any given area, a great demand indicator for spot market negotiation. More loads outbound than inbound shows you in a positive position picking up in that area.
A new tool from Truckstop.com, Rate Analysis, is a rate platform that allows trucking/brokerage customers to use market data and their rate history to make quick and data-driven decisions on their rates. Based in the cloud, Rate Analysis charts data on paid rates from across the first-of-its-kind "Rate Marketplace," with rate data from Truckstop.com's ecosystem and third parties.
Designed for efficiency and margin enhancement, each lane shows a live feed of available capacity and a tool to send direct quotes.
"The set-up is very user friendly and the forecasting is something I haven't seen with other rating tools," said Zach Green, a senior analyst with Ryder Logistics. "That should be extremely beneficial when we're presenting a quote to a customer or prospect on freight that is contractual or recurring, as predicting future rate trends has been a major challenge."
Dickard urged that, in addition to turning every negotiation as best you can into more money on the table, both truckers and brokers should take a long view toward relationship-building for future business health and short-term success alike. Just as many independents view trusted brokers as a sort of outside-sales force for the owner-operator, as a broker, noted Dickard, "I look at the carriers, the drivers, as an outside sales rep, a partner. They're extremely valuable to me. I want to treat them well. I've got a program where I send them to a ballgame, on a fishing trip. I'll send steaks to their house for a barbecue. There's plenty to getting out of your box and treating people like the useful people they are to you."
Every negotiation is a chance to either start or extend the relationship-building process.
As negotiations occur, then, don't leave money on the table, but always keep in mind this rule of thumb, Dickard says. "If both sides aren't happy in the end, it's not negotiating."
Bonus: One old negotiation tactic
The Flinch: You want me to haul that load for how much? "The Flinch," among the oldest of negotiation tactics, says Dickard, is employment of a visible, or exaggeratedly audible, incredulous response to an offer that is designed to make the other party feel a little uncomfortable.
It typically bring one of two outcomes, unless you're dealing with a seasoned negotiator, Dickard says: The other party will either "immediately cave or start to rationalize their price," the latter of which at least gives you further opportunity to gain better load information.