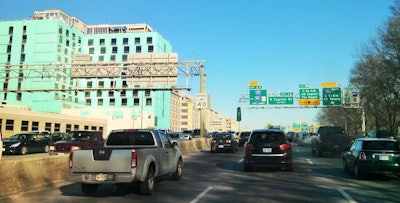 California cities take three of the top 10 worst cities for truck drivers, according to navigation equipment manufacturer TomTom's annual list of cities with the worst traffic.
Los Angeles and San Francisco take the top two spots, and San Jose comes in at No. 6 on the list.
The full top 10 list, according to TomTom, is as follows:
Los Angeles
San Francisco
Honolulu
New York City
Seattle
San Jose
Miami
Chicago
Washington, D.C.
Portland, Ore.
RoadPro, which provides truck and auto products through its family of brands, adds that the bad traffic is so widespread, it makes a whole area or region a nightmare, such as Southern California, the New York-Boston corridor, Washington, D.C.-Baltimore, Chicagoland, and Seattle-Tacoma.
The American Transportation Research Institute recently released its annual list of top 10 most congested freight intersections, which can be seen here.