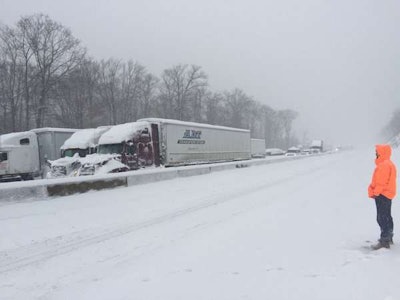 Note: See Overdrive's updated coverage of Winter Storm Jonas at this link.
An Eastern blizzard of historic proportions has stranded truckers and resulted in Pennsylvania restricting vehicles, New York City banning travel and nearly half a dozen states declaring states of emergency.
On Saturday, West Virginia reopened one lane of I-77, just north of its capital city of Charleston. The winter storm some dubbed Jonas and others "Snowzilla" had left as estimated 200 vehicles, mostly trucks, stuck there since Friday.
Pennsylvania progressed on pulling out trucks and other vehicles on I-76 near Somerset.
Still, the Keystone State has temporarily barred certain vehicles from southern interstates, including empty straight trucks, large combination vehicles and trucks pulling empty trailers.
Stuck cars on the turnpike during #blizzard2016: "We haven't moved one inch." https://t.co/w6TIFexA47 pic.twitter.com/KgD0Jvmyet

— PennLive.com (@PennLive) January 23, 2016
The Pennsylvania Turnpike banned all commercial vehicles between New Stanton Interchange and the Delaware River Bridge. These vehicles are also prohibited on the Northeastern Extension (I-476) between the Mid County Interchange (Exit 20) to the Pocono Interchange (Exit 95). Turnpike personnel and others are refueling cars to keep them running and are offering a warming shelter and emergency medical services at the Bedford exit.
Pennsylvania is among the states where the National Guard has been deployed with shovels, rations, water and chains for driver checks and assistance. Warming stations and emergency shelters also are operating in New Jersey, Virginia, West Virginia, Tennessee and elsewhere.
Drivers have been stuck on the PA Turnpike for 16 hrs and counting…pounded by storm. I'm Live pic.twitter.com/NMxECPIkue

— Sheldon Ingram WTAE (@SheldonWTAE) January 23, 2016
New York Gov. Andrew Cuomo banned travel on all NYC local and state roads, as well as surrounding major arteries and trans-Hudson crossings. In the Big Apple and other major cities, above-ground subways and bus services have been suspended, airlines cancelled thousands of flights and grounded even more.
Cuomo declared a state of emergency for NYC and several counties. Additionally, the governors of Delaware, Georgia, Kentucky, Maryland, New Jersey, North Carolina, Pennsylvania, Tennessee, Virginia and West Virginia issued states of emergencies.
North Carolina waived hours-of-service regulations and size and weight restrictions for vehicles providing utility restoration, debris removal and hauling essentials, as well as transporting livestock and poultry and feed for these animals.
Tennessee also has suspended HOS rules for food supply deliveries.
Current travel information is available on DOT or 511 websites of affected states, many of which also post updates to Twitter, the lot aggregated in Overdrive's "Roads 511" list — access it below.