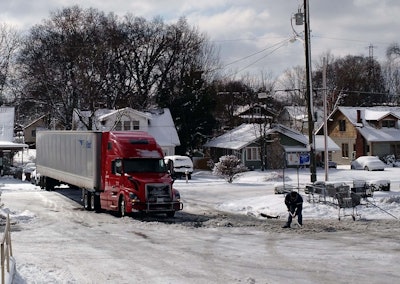 The scene is here from Nashville, Tenn., this morning, after the winter storm now pounding those of you running out East came through, delivering a healthy dose of the white stuff for this part of the world a little earlier than forecast.
By 9 a.m. yesterday this editor's ties to the wider world were effectively severed with a power outage and battery-powered communications devices that quickly neared the end of their effectiveness, as it were. The focus became local, as did the driver's above, the three-inch-thick ice in the grocery store delivery lane just another obstacle to getting it all done. Stay warm out there, if you're in the thick of it. And kudos to you — who keep everything moving to where it needs to go even as things get, well, hairy.
And if you get a moment, send us your winter scenes via our photo uploader to our Readers' gallery at this link.
Change in the offing? …
Here's a note that came in from a driver, identifying himself only as "Big Ernie," in response to my recent "Building a customer base" series of reports and feature in this month's magazine. The writer referenced small fleet/owner-operator successes and the old truck/driver relay system that was the horse/rider model of the famous Pony Express of the days of yore.
I believe some small carriers will survive by running a "pony express" or relay system. I returned to the driver seat over a year ago with a "mega" carrier, and have witnessed smaller carriers getting a larger piece of the pie at some of our customers due not to p-logs vs. e-logs but because they were nimble enough to change course when the customer requested. This same scenario was played out in the steel buisiness when Nucor and others with there mini- mills took on big steel, and won! Change is in the air … or maybe that's the cold draft coming through this truck.
While relay systems have been reported in the past as seeing a bit of resurgency — I do recall a conversation with Jay Thompson about cross-counter/up-from-Mexico produce operations that were instituting such in years past (chronicled in brief in this story about length-of-haul trends), I do know many smaller fleets end up succeeding with a hub-and-spoke system that get drivers by or to home much more often that what the big national carriers can do. Itself is an old model of trucking.
What do you think? Is Big Ernie on to something?
Stay warm out there this weekend.