"We'd like nothing more than for March to come in like a lion, and go out like a pack of lions," noted Ken Harper attendant to this week's spot market update from the DAT network of load boards. "But we have to get through February first, apparently."
Traditionally, as also noted last week in the reefer-market update, this is the slowest (and lowest) month on the spot market for freight, and this month's been no exception, DAT says.
First, the good:
Most of the high-traffic van lanes saw relatively small declines, with a few notable exceptions.
Philadelphia to Buffalo lane rates surged 34 cents per mile, likely as a result of terrible weather.
Charlotte was the only major market where the average outbound rate actually rose.
California markets held steady, for the most part, without significant downturns.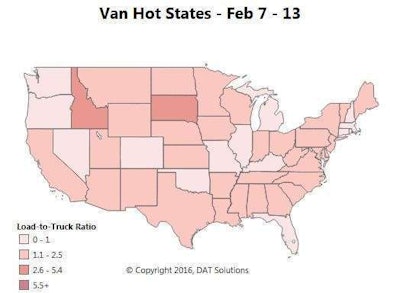 Secondly, here's the bad
Conditions are tough in Texas right now.
Dallas outbound rates lost an average of 7 cents per mile on average last week.
The lane rate from Houston to New Orleans fell 15 cents.
Finally, the ugly
Denver to Dallas' average lane rate lost 15 cents.
Dallas to Denver declined 13 cents.
Average roundtrip rate: $1.33 per mile. Ugh.