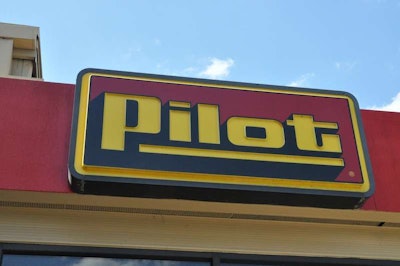 The court overseeing the criminal trials of former Pilot Flying J employees and their alleged involvement in the widespread fuel rebate fraud case uncovered in 2013 has issued an order requiring prosecutors to disclose to defendants and their attorneys all of the evidence gathered against them in the April 2013 raids on Pilot Flying J offices.
That evidence could include, according to court documents, "hundreds of millions of pages" of documents, along with more than 200 hours of recordings produced by FBI informants working at Pilot during the federal investigation. Defendants say the government seized more than 5 terabytes of digital documents, including emails and spreadsheets, from Pilot offices in Tennessee, Kentucky, Iowa and Texas.
The order was filed March 4, following a Feb. 26 meeting of all parties involved, where defendants made their pitch to have the government disclose the evidence against them.
The eight defendants in the case, including former Pilot President Mark Hazelwood and former VP of Sales John Freeman, have also filed a motion to push back their scheduled April 11 trial date at least 70 days, given the sheer size of the evidence brought against them. The court has not yet ruled on the motion for delay.
In addition to Hazelwood and Freeman, six other former Pilot Flying J employees are facing criminal charges in the case, including Scott Wombold, Vicki Borden, John Spiewak, Heather Jones, Katy Bibee and Karen Mann. Ten other Pilot employees have entered plea deals since the FBI's April 2013 raid of Pilot's headquarters.
The company itself settled with the Department of Justice in 2014, agreeing to pay $92 million in fines to resolve the criminal case against it. Pilot also agreed in 2014 to pay $85 million to more than 5,500 trucking companies to resolve the class action civil suits brought against it in the matter.
Hazelwood, Freeman and the six others were indicted only a month ago on multiple charges of fraud and conspiracy, stemming from what authorities say was a sophisticated, intentional and widespread scheme conducted by top Pilot employees to defraud diesel fuel customers out of tens of millions of dollars over a nearly decade-long period. The alleged scheme, per prosecutors, was done in an attempt to boost company profits and commissions for its sales personnel.
The defendants in the case are accused of covertly denying carriers money they were owed in fuel rebate checks by fraudulently altering diesel price figures after the purchases had been made. Investigators allege that Pilot employees involved in the case targeted carriers "too unsophisticated," according to April 2013 court documents, to realize they were being defrauded.