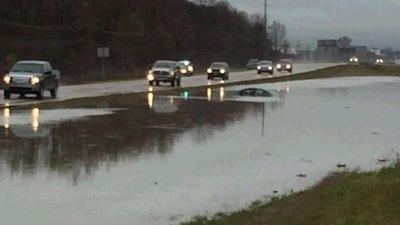 Car swallowed by flood waters off Highway 61 in DeSoto Co, MS. Still raining. Be cautious #memwx pic.twitter.com/6dkp0mqFBH

— Jason Miles (@JMilesWMC) March 10, 2016
A rain system stalled over Texas, Louisiana, Mississippi and Arkansas is wreaking havoc and causing flooding on many major highways and interstates.
Texas: The Texas DOT says portions of I-30 east of Dallas may be slowed due to flooding, but there are no closures along the interstate. Some frontage roads are closed, or the Texas DOT recommends staying off the frontage roads, in certain areas. A map of updated flooding closures and delays in Texas can be seen here.
Louisiana: In Louisiana, I-20 eastbound at exit 26 (I-220 near Shreveport) is closed due to flooding. I-20 in both directions between exit 52 and Gibsland rest area is closed due to flooding. I-20 westbound between Gibsland rest area and exit 61 is also closed. Updated road conditions in Louisiana can be seen here.
Mississippi: Several state and U.S. highways in Mississippi are experiencing flooding, but remain open, including MS 1 three miles south of Beulah, U.S. 49 south of Rome, U.S. 49 at MS 8, MS 8 at U.S. 278 in Cleveland, U.S. 61 ramp to MS 446, and U.S. 82 at MS 1 in Greenville. Updated conditions for Mississippi can be seen here.
Arkansas: Several highways in Arkansas are closed due to high water. Check this list from the Arkansas DOT to see which sections of highways are closed.
Highway 160 (not 60). Here's another picture of flood waters near Hermitage #ARWX pic.twitter.com/fx4BgKvc9Z

— Todd Yakoubian (@KATVToddYak) March 9, 2016
Latest Video: flood waters flow across Louisiana I-20 near Shreveport earlier today. https://t.co/gRWQENOeLg #lawx pic.twitter.com/1dsvHxUTum

— WeatherBug (@WeatherBug) March 9, 2016
Tweets from https://twitter.com/channel19todd/lists/roads-511