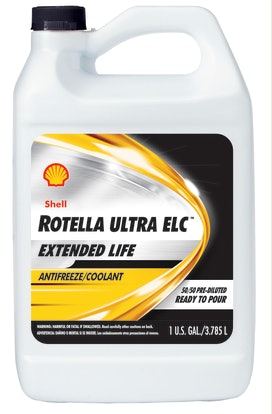 Shell has asked distributors, retailers and recent buyers to return certain coolant products after it was discovered the products were under-treated with bitterant, an additive used to make the product unpalatable for animals and children.
The company wants all batches of one gallon bottles and 55-gallon drums of Shell Rotella Ultra ELC 50/50 Pre-diluted Antifreeze/Engine Coolant and one batch (B2811293U063/30Sept15) of 55-gallon drums of Shell Rotella Ultra ELC Antifreeze/Coolant Concentrate to be returned.
Users, however, are not affected by the recall, per se.
If any of these products are already installed in a cooling system, SOPUS says they do not need to be drained or replaced because the lack of bitterant has no impact on product performance. But the company still asks unused products to be returned.
"We request that distributors, customers and retailers remove these specific products from their inventory, segregate them from [sellable] products and return or recycle it," the recall notice says.
To begin a claim process, click here. Open product should then be taken to a local recycling facility or auto parts store to be recycled. Additional instructions around recycling can be found here.