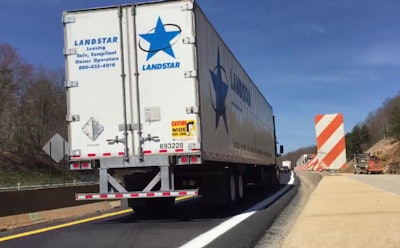 Video: Work continues on I-75 North rockslide in Campbell County. One lane open,project completion on or before 4/15 pic.twitter.com/zA8RnRThfX

— Mark Nagi (@MarkNagiTDOT) March 29, 2016
As noted by the Tennessee Department of Transportation's Mark Nagi in the tweet above, after nearly a month of full closure on the northbound side of I-75 in the state near the Kentucky border, one northbound lane reopened to traffic last week, March 24. Reports have shown traffic in that lane moving slowly but smoothly most times, with, as Nagi reported yesterday, some slowdowns approaching mile marker 142, where the brunt of the damage from the slide was located.
Video: Traffic moving smoothly on I-75 North in Campbell County. Backups still likely as you get closer to MM 142. pic.twitter.com/ZfkQ8dK3kf

— Mark Nagi (@MarkNagiTDOT) March 29, 2016
Southbound lanes reopened earlier, on March 10, following just more than a week of closure.
What kind of delays are you seeing in the northbound lane, drivers? Drop a comment below.
Tweets from https://twitter.com/channel19todd/lists/roads-511