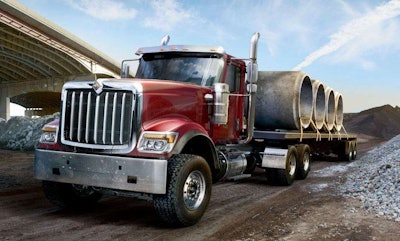 At this week's Truck World Show In Missassauga, Ontario, International Truck unveiled its fourth model of the International HX Series lineup, the HX520. The new model, completing the HX Series, is a 120-inch bumper-to-back-of-cab truck or tractor in a set-forward axle configuration and designed to serve the heavy haul tractor, construction dump and platform stake/crane markets.
The broader HX Series, International's new line of Class 8 premium vocational trucks, was introduced at the 2016 World of Concrete trade show in Las Vegas in February.
"We have been generating a steady stream of truck orders since we launched the HX Series and that number is growing by the day," said Navistar Sales and Marketing Senior Vice President Jeff Sass. "We expect demand for the HX Series to continue to grow with the HX520 debut."
Four HX Series models are offered in total, with both set-forward and set-back front axle models in either short or long hood, depending on the application. The HX520 and HX620 models offer the Cummins ISX15 engine, while the HX515 and the HX615 models are powered by Navistar N13 engines.