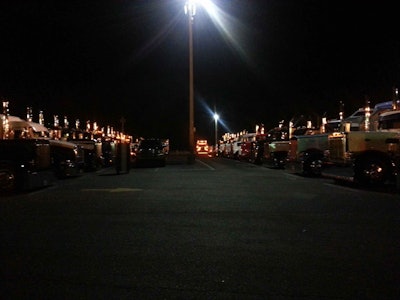 We're in Wildwood for the Pride and Polish show at 75 Chrome Shop, and once again, the Farkus family has done an exceptional job hosting an exceptional show. There are beautiful trucks and chrome as far as the eye can see, the pride really is evident.
The shows are a wonderful place to meet people and have conversations about everything trucking. We had the pleasure of meeting Sherman Kerns and his 1980 Peterbilt cabover yesterday. Mr. Kerns is 76 years old and just quit trucking two weeks ago.
He was a wealth of information, without even knowing it — he taught me a ton of stuff about COEs. I've always had a fascination with them.
Mr. Kerns was kind enough to let me crawl up inside his old girl to have a look around. He was tickled that I loved it so much, and I was tickled to see the truck. They don't make trucks or truckers like that anymore. Sherman Kerns is definitely old school all the way around.
We also met Owen Aird – a trucker from Jamaica who is here visiting his brother, a trucker in the US. He's spending his vacation doing a ride-along, and we passed a little time talking about the differences between Jamaican trucking and U.S. trucking. It's fascinating to hear about how things work elsewhere, and to hear a lot of the same problems exist no matter what country you're trucking through.
We appreciate the opportunity to meet such neat people and make friends all over. Showing the truck is just one small part of our enjoyment here, the camaraderie is really what we enjoy more than anything. Thank you, Farkus family, for giving us the place to congregate, learn and show our trucking pride. If you happen to be in or near Wildwood, Florida, today or tomorrow, stop in and see us!