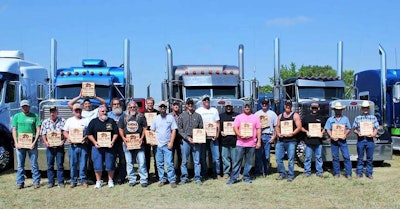 Tinker Raasch is a 41-year veteran of the trucking industry with one thing on her mind when she plans her Color and Chrome Fantasy Truck Show.
"It's all about the working truck and the truck drivers at our show."
The event is held the last week in July, and coincides with the Keith County Fair dates in Ogallala, Neb. This is a family-friendly event, and with 49 competing trucks this year, it's a big turnout for a little show.
Tinker plans and co-ordinates the event herself, but gives huge credit to her friend Stephanie Reinke and Stephanie's daughters — Faith, Hope and Destiny — for being there as solid boots-on-the-ground help at the show for the past seven years. She also wants to mention the new helper, Adrian, who pitched in this year and did a great job.
There is an evening "Fantasy Lights" convoy each year (video at the link, via Facebook), with enough chicken lights to blaze up the sky like a Hollywood movie premier.
All judging is done by popular vote, and with more than 60 sponsors, Tinker makes sure every driver who enters gets a gift, in addition to their swag bags. These aren't your run-of-the-mill show gifts, Tinker has everything from leather seats to bluetooth headsets donated by sponsors.
"I have great sponsors, and we want everyone who participates to get something nice. We try to make sure the drivers are the focus of the show."
She probably retains such good relationships with her sponsors because she thinks of things like including thank-you cards for the companies who donate prizes in her swag bags, and she fully expects and encourages her participants to fill them out and send them after the show. That's a classy touch, and it says a lot about Tinker as a person in general.
"I actually put thank-you cards on all the gifts and I send out my personal thank-you cards to my sponsors," she says. "I hand write all the envelopes and what gift they won. It's time-consuming but worth it."
If you're in the booming metropolis of Ogallala (population 4,000) the last weekend of July next year, or you'd like to plan a trip to a really decent, fun, family friendly show in the heart of America, plan on being at the 8th annual Color and Chrome Fantasy Truck Show.
Thanks, Tinker! Keep up the good work in promoting a positive, family oriented show!