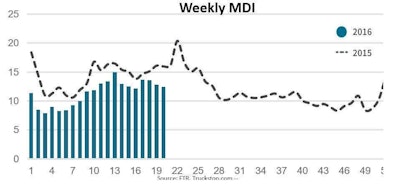 The weekly Market Demand Index produced by Truckstop.com signaled market favorability swung against owner-operators in the most recent week, trending in brokers' favor in rate and load negotiations.
The index is a reading of the number of trucks and loads available national. The index reading for the week ending May 22 fell 3.2 percent from the week prior. It was also down 22 percent from the same week in 2015.
A 3 percent drop in load availability in the week drove the index's lower reading. Load availability was down 25.3 percent from the same week last year, according to Truckstop.com's weekly Trans4Cast report.
Truckstop.com noted these five states as being the most favorable for owner-operators relative to load-to-truck ratio:
Utah
California
Iowa
Alabama
Georgia
Click here to sign up to receive and view the Trans4Cast report. Overdrive, in partnership with Truckstop.com, offers regularo snapshots of the overall MDI or a trend within a segment worth highlighting from the previous week.