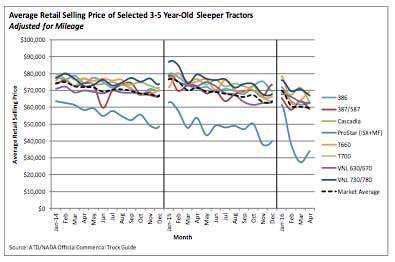 Used trucks values depreciated at a slower rate in the first few months of 2016 than the same period in 2015, according to analysis and data from the American Truck Dealers. Year-to-date, however, sleepers three to five years of age are retailing for $8,626 less than in the first four months of 2015.
In May, model year 2013 Class 8 sleeper tractors lost about 13 percent of their value (now valued at $36,500 on average), model year 2012 having lost about 18 percent of their value ($35,659 average) and trucks from model year 2011 have lost about 11 percent ($28,750 average) on the wholesale market.
"These figures translate to retail pricing continues to catch up to wholesale, with the market sticking to our depreciation forecast of 4 to 5 percent per month," Chris Visser, senior analyst and product manager, commercial vehicles for J.D. Power, says. "That's not a bad decline given the major changes the market has seen over the past year, and better than the 4.7 percent average monthly loss in the second half of 2015."
Due to the lower volume of 3 to 5 year-old trucks, the average age of trucks sold in April jumped to 93 months — 11 months higher than March.
"Trucks of model year 2012 have fared the worst in 2016 to date, losing 21.8 percent of their retail value from January to April," Visser adds. "In the same period of 2015, that age group had lost only 4.5 percent. This past April was likely an outlier though, as an unusually large group of retail Freightliner Cascadias sold at a price typically brought in the wholesale market."
Trucks three and four years of age fared better, with 2014's losing 2.3 percent of their value, and 2013's gaining 0.7 percent month-over-month.
The Kenworth T660 gained ground for the second month in a row, moving upward in 2013, 2012 ad 2011 model years.