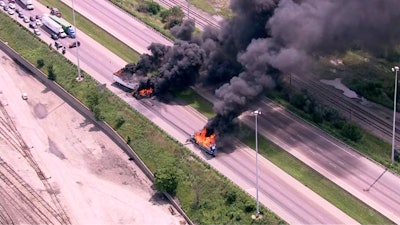 TRAFFIC ALERT: Outbound I-55 shut down at Cicero due to truck fires – https://t.co/QgtCmUgIBD pic.twitter.com/WmWhWLc2KK

— ABC 7 Chicago (@ABC7Chicago) July 25, 2016
An accident involving two tractor-traoilers and multiple cars on I-55 in Chicago near Cicero resulted in one fatality, according to reports from ABC 7 Chicago, and halted traffic on both sides of the Interstate for hours.
The news station said the two trucks collided at approximately 10:50 a.m. Monday, and both burst into flames. Illinois State Police told ABC 7 one of the trucks was hauling 17,800 pounds of paint – a hazardous material. The other truck was hauling frozen meat. The crash also involved three cars.
All three cars involved in the crash were consumed in the blazes, and police are trying to determine if the cars were involved in the initial crash, or if they were collected after the crash occurred.
I-55 was closed in both directions for nearly three hours. All northbound lanes of I-55 were reopened around 4 p.m., and the southbound lanes didn't reopen until 12:05 a.m. Tuesday, according to ABC 7.
TRAFFIC UPDATE: Massive truck fires close I-55 in both directions at Cicero – https://t.co/YNsUKXByRZ pic.twitter.com/bhRlwYajzq

— ABC 7 Chicago (@ABC7Chicago) July 25, 2016
UPDATE: 4 drivers escape massive truck fires on I-55 at Cicero – PHOTOS: https://t.co/mJaNrWNXTD pic.twitter.com/7xQK5E6xY2

— ABC 7 Chicago (@ABC7Chicago) July 25, 2016