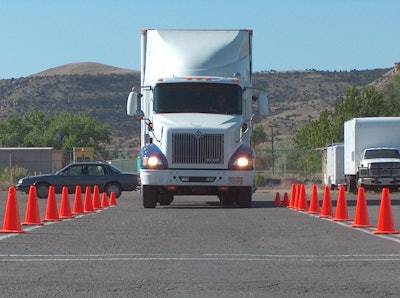 The state of Minnesota has applied for an exemption from regulations governing commercial driver's license skills testing.
According to a notice to be published in the Federal Register on Monday, Aug. 1, Minnesota told the Federal Motor Carrier Safety Administration in its request that the state "can deliver CDL skills testing more efficiently in an alternative manner" to the current regulations.
Current regulations say CDL skills tests have to be conducted in three parts in the following order: pre-trip inspection, vehicle control skills and on-road driving.
Minnesota proposes to combine vehicle control skills and on-road driving, making the skills test two parts instead of three. It also asks to be exempted from using the American Association of Motor Vehicle Administrators 2005 Test Model Score Sheet, as well as from the requirement that CDL applicants must pass the pre-trip inspection portion of the exam before moving on with the rest of the test.
The state says that under its proposed approach, it can "more efficiently manage the limited space of its test sites and conduct more CDL tests each day." Minnesota adds that if FMCSA denies this exemption request, it will result "in a less-rigorous CDL test and negatively affect motor carriers and drivers."
FMCSA is seeking public comment on Minnesota's exemption request, which can be made by searching Docket No. FMCSA-2016-0180 at www.regulations.gov after it's published on Aug. 1.