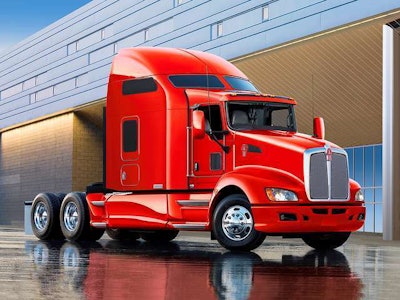 Kenworth Assistant General Manager for Sales and Marketing Jason Skoog said Friday the company will cease production of its T660 later this year, signaling the end of the line for a truck that once led the company's charge into modern aerodynamics and fuel efficiency. Kenworth will send the truck out with a limited production run of 500 units.
"It's been a good 10 year run," Skoog says of the truck that has sold 60,000 units since its introduction in 2007.
The truck maker also announced it is rolling out its Advantage package to T680 daycabs, targeting pickup and delivery and regional haul operators with a package that the company says offers up to 6 percent fuel efficiency improvement.
The Kenworth T680 Advantage Day Cab features an optimized powertrain that includes the 2016 Paccar MX-13 or MX-11 engine and the Eaton Fuller Advantage 10-speed automated transmission. Those are combined with fuel-efficient Meritor MT40-14X drive axles rated at 40,000 pounds, Kenworth Driver Performance Assistant, Kenworth Predictive Cruise Control, Kenworth Neutral Coast, and Flow Below wheel covers.
In designing the daycab truck, Kurt Swihart, Kenworth marketing manager, says the company borrowed fuel-efficiency optimization specifications and aerodynamic treatments on its T680 Advantage 76-inch sleeper – the truck maker's most fuel-efficient truck.