Apex Capital's new 24/7 Roadside Rescue program, launched at the Great American Trucking Show Aug. 25, offers what the company says is quick and affordable access to truck breakdown assistance, road service, towing, and accident dispatch services. Via the program, available for an initial, always-flat $50 service call, Apex clients can also gain discounted pricing on tires, oil changes, preventive maintenance and much more.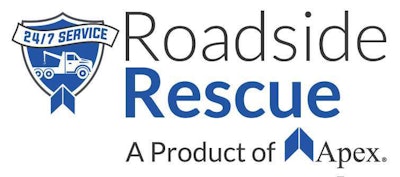 The program's a full-service breakdown and on-the-road maintenance solution for carriers, the company says, allowing them to tap into a nationwide roadside network of more than 85,000 providers that perform a variety of services and a 24/7 U.S.-based call center located in the Dallas/Fort Worth metroplex.
A further breakdown of services follows:
• Breakdown assistance, including tire repair and replacement, brake repair, battery replacement, reefer repair, lockouts, air and cooling system repair, and jump starts.
• Towing assistance, including equipment re-positioning, secure storage, drop deck and lowboy support, pull starts, and secondary towing after accidents.
• Cargo assistance including load shifts, load transfers, warehousing, decking program, storage, repackaging, and disposal.
• Recovery assistance, including medium and heavy duty wreckers, trailer lifts, rotators, accident management, police call management, and invoice review and negotiation.
• Maintenance assistance with dedicated technicians assigned to manage your account, real-time operations notifications, and reduced costs for repairs and service.
At the Great American Trucking Show, Apex is hosting a series of informational sessions at its Booth, No. 14039:
Thursday, Aug. 25
**12:30 p.m.: 5 free tools that can save money
**2 p.m.: How to start a trucking company
**3:30 p.m.: How to improve cash flow
Friday, Aug. 26 (same sessions)
**11 a.m., 1 p.m., 3 p.m.
Saturday, Aug. 27 (same sessions)
**10 a.m., noon, 2 p.m.