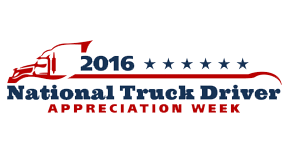 The American Trucking Associations' annual week-long event to honor truck drivers will be held Sept. 11-17.
National Truck Driver Appreciation Week is coordinated each year to show the country's 3.5 million truck drivers that carriers, shippers and the rest of the industry appreciate the job they do, ATA says.
"Truck drivers provide one of the most important services to this country – the timely delivery of critical goods – and the American people demand more and more from these hard working men and women each day," says ATA President and CEO Chris Spear. "As an industry, we want to recognize and thank drivers for the work they do and for making safety a priority."
Sponsors for this year's National Truck Driver Appreciation Week include Help, Inc., Velociti, U.S. Legal Services, Smart Drive and Trucker Path.