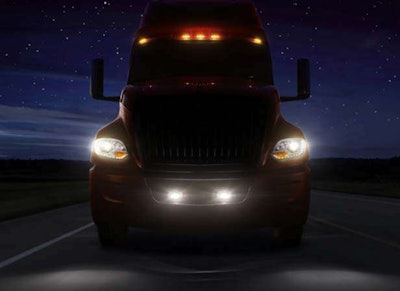 International Truck is slated to become the first OEM to make a collision mitigation system standard equipment when the Lisle, Ill. truck-maker unveils its LT Series on-highway Class 8 tractor later this month.
Navistar Trucks and Parts President Bill Kozek says the advanced driver assistance safety system will include a combination of collision mitigation and full stability technologies.
"As part of our DriverFirst philosophy, driver safety is paramount when operating a truck and we're proud to lead the way by integrating a standard solution on the new LT Series, which demonstrates our commitment to drivers, their safety, and their livelihood," he says.
Bendix Wingman Advanced – the standard solution featured on the new International LT Series – gives drivers following distance and stationary object alerts and brings together adaptive cruise control with collision mitigation braking technology. The full-stability technology, Bendix ESP, provides fleets can help drivers avoid collisions, roll-overs, and loss-of-control situations.