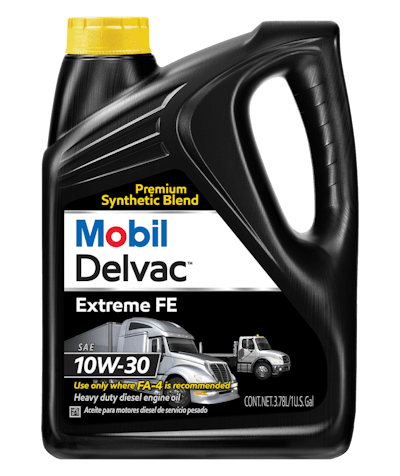 ExxonMobil has launched its lineup of new Mobil Delvac diesel engine oils, formulated to meet API CK-4 and FA-4 category requirements.
The new lineup includes improved versions of current Mobil Delvac offerings, including Mobil Delvac 1300 Super and fully synthetic Mobil Delvac 1 ESP 5W-40, as well as new additions to the Mobil Delvac line, such as low viscosity Mobil Delvac Extreme semi-synthetic oils.
After more than 30 million miles of on-road testing conducted with major OEMs, engine builders and fleets, ExxonMobil says its new CK-4 and FA-4 formulations deliver performance improvements over today's comparable CJ-4 oils.
Michael Smith, ExxonMobil's commercial vehicle lubricants global brand manager, says the new formulas offer an 80 percent improvement in high temperature viscosity control, which helps enhance equipment protection in extreme operating conditions; a 50 percent improvement in oxidation resistance, which helps reduce sludge formation and support engine performance even under extreme high and low temperature conditions; and a 20 percent improvement in wear protection, which helps to enhance engine durability and protect critical engine components from corrosion and scuffing.
CK-4 oils are a direct replacement for current CJ-4 oils and are backward compatible with today's diesel engines.
ExxonMobil's CK-4 line will include synthetic Mobil Delvac 1 ESP 5W-40, Mobil Delvac Extreme – a premium synthetic blend – and Mobil Delvac 1300 Super.
Available in a range of viscosity grades, Mobil Delvac CK-4 oils offer improved oxidation resistance, shear stability and aeration control compared to today's CJ-4 oils.
FA-4 oils will mostly be recommended for use in model year 2017 and newer model engines. ExxonMobil's FA-4 products will include Mobil Delvac Extreme FE premium synthetic blend and Mobil Delvac Super FE.